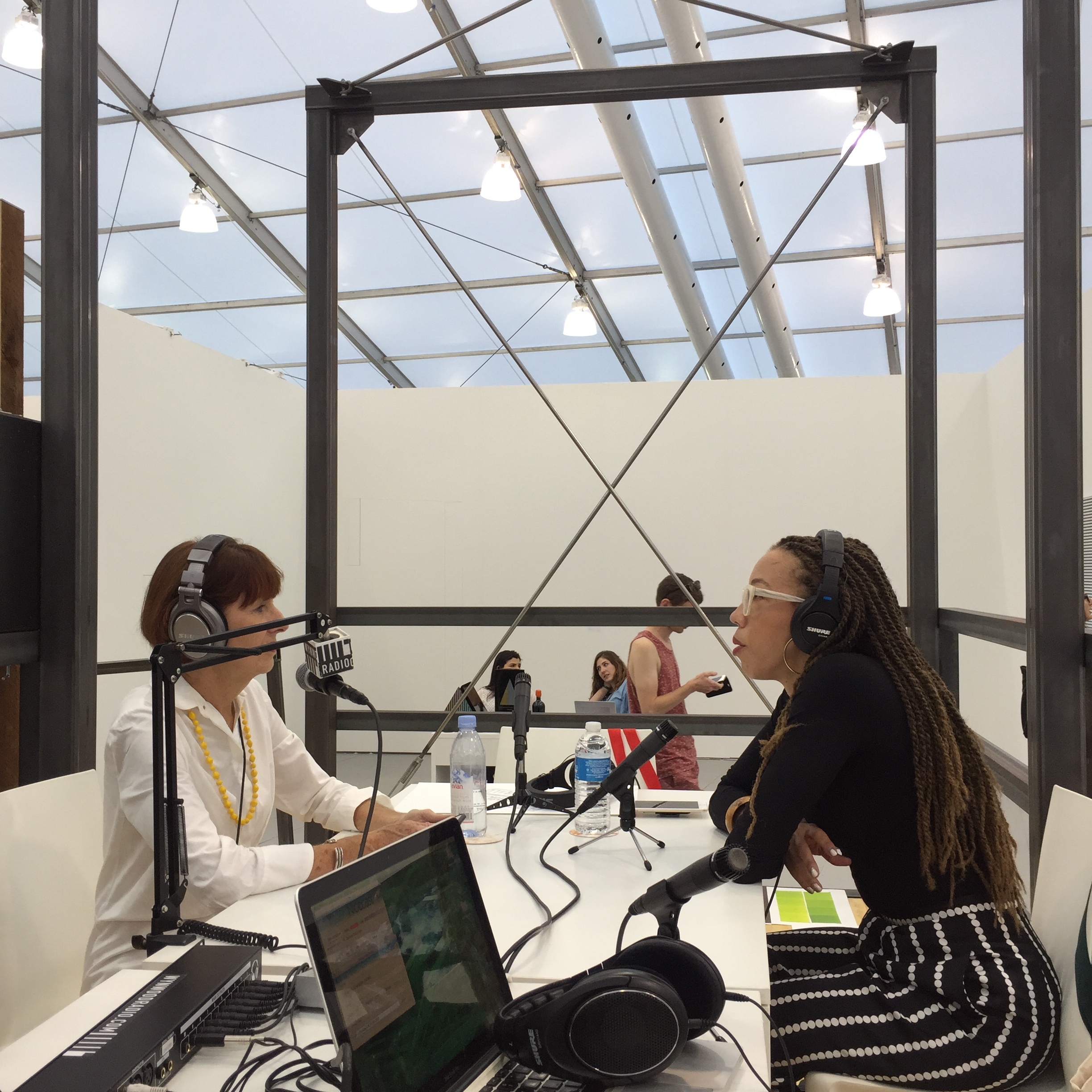 RADIO STATION: MIAMI FOLLY II (2017)
Radio Station: Miami Folly II was a Special Project presented at the 6th edition of UNTITLED, Miami Beach – an installation by artist Paul Amenta and architect Ted Lott of Lott3Metz Architecture, in collaboration with UNTITLED Radio, Not Design, and DisArt. This project was realized in partnership with Xibitz and Kendall College of Art and Design.
UNTITLED Radio in partnership with Miami-based web station Wynwood Radio broadcasted live from Radio Station: Miami Folly II – broadcasting talks, discussions, sound and performance-based work from the fair to a broader audience. UNTITLED Radio, developed by Programming Director Amanda Schmitt, included an extensive schedule of live and pre-recorded audio and musical performances, curated playlists, and experimental recordings.
DisArt Co-Executive Directors, Chris Smit and Jill Vyn will presented the DIStopia podcast as part of the UNTITLED Radio program. DIStopia looks at disability culture from the inside out. DIStopia is the podcast development by DisArt, an arts and cultural organization committed to raising the participation of disabled people through carefully curated contemporary art exhibitions, cutting-edge public events, and consultation.
Not Design operated a tabletop letterpress within the structure, producing live content during the fair that was displayed on the structure's wall that included daily updates on the UNTITLED Radio program and the fair's special events schedule. Not Design is a collaborative studio interested in solving problems in unconventional ways. The end results are not only that they design artifacts (things) but that they identify needs and fill them. They aim to have an impact by making education, information and experiences more relevant.
Xibitz provided critical fabrication and logistical support for this project. Xibitz partners with architecture and design firms, corporations, museums, universities, and healthcare facilities in the execution of one-of-a-kind, experiential spaces.
Kendall College of Art and Design provided generous financial support for this project. Located in the heart of downtown Grand Rapids, Kendall College of Art and Design, Ferris State University (KCAD) is committed to creating lasting impact in West Michigan and beyond through collaborative partnerships, cultural innovation, and an educational model that develops the talent of individuals into a force for intellectual growth, individual creativity, and community engagement.
This project was supported in part by an award from the National Endowment for the Arts and the Michigan Council for Arts & Cultural Affairs.
Paul Amenta, artist and founder of SiTE:LAB, has received national attention for his use of vacant urban spaces for temporary site-specific public art installations and projects. He holds a BFA in Sculpture and Printmaking from Grand Valley State University and an MFA in Fine Arts from The School of Visual Art in New York.
Ted Lott is a Principal at Lott3Metz Architecture. Ted is an award-winning architect, urban designer and planner and an active stakeholder in the city neighborhoods, working to build strong relations with the City of Grand Rapids and neighborhood residents. He earned his graduate and undergraduate degrees from the University of Michigan.
SiTE:LAB is a nomadic all-volunteer artist-led initiative that has organized over 25 public projects primarily in underutilized sites in Grand Rapids, Michigan. Project sites have included: An entire city Block, an abandoned natural history museum, a nature preserve, vacant commercial buildings, and a once-grand downtown hotel. SiTE:LAB's current site is a 70,000 sq. ft abandoned high school.
photo credit: Paul Amenta