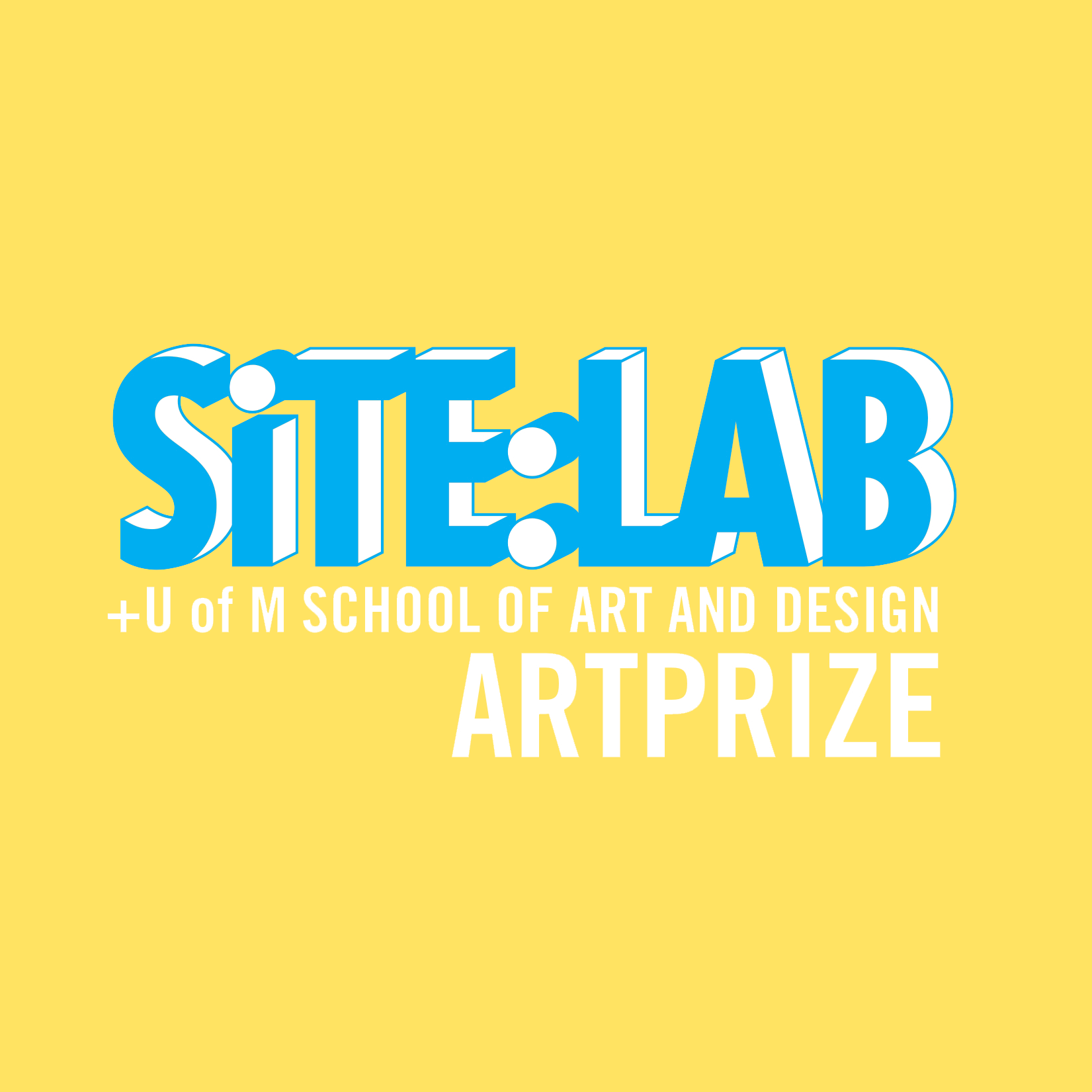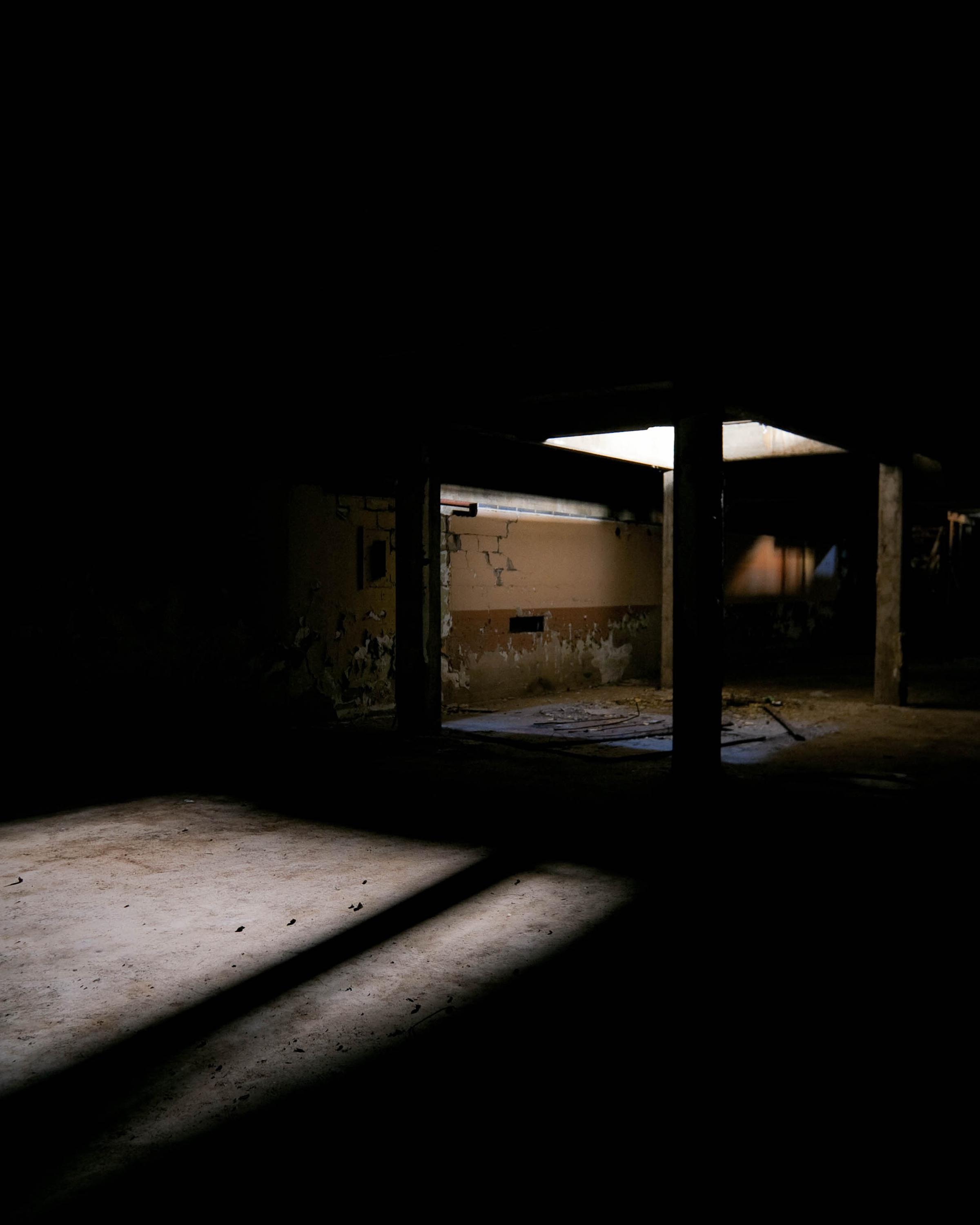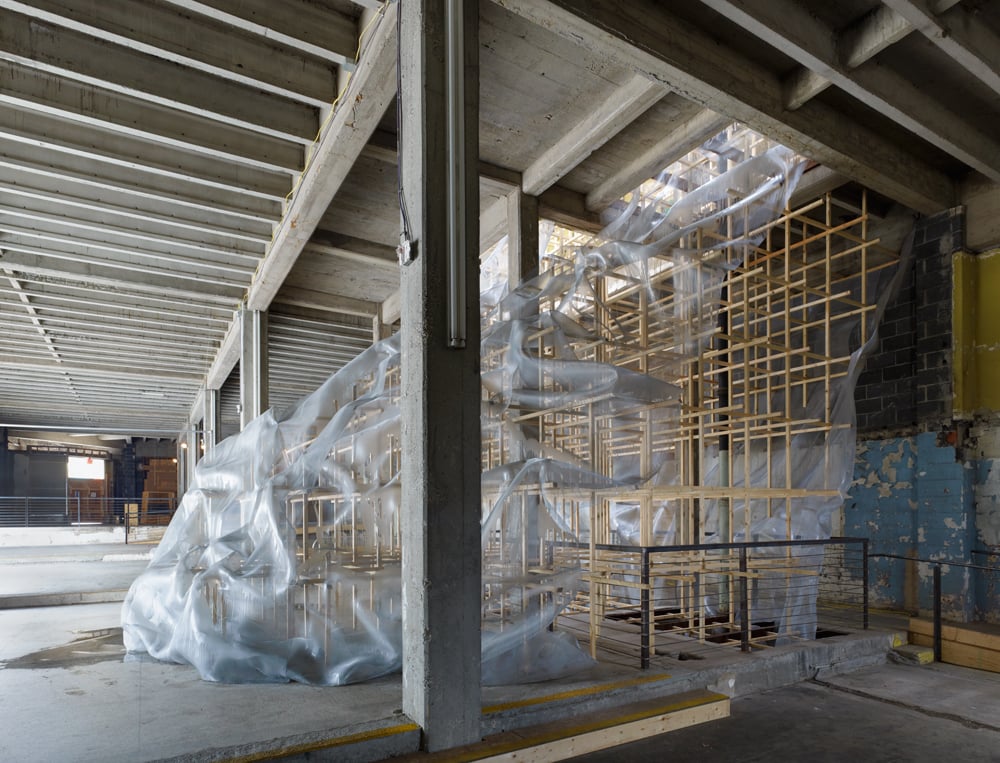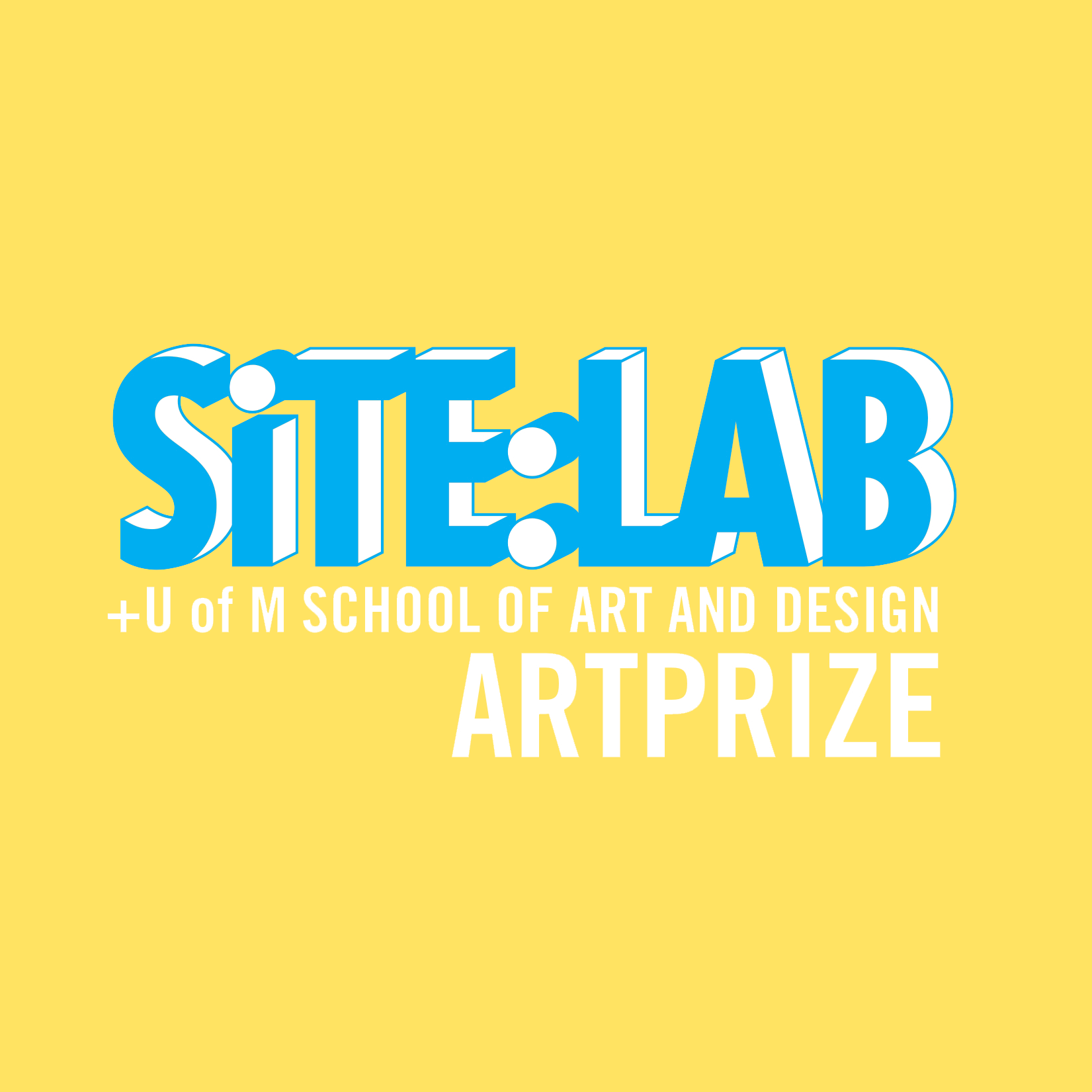 SiTE:LAB + U OF M = ARTPRIZE (2011)
"There was a playfulness and a seriousness that combined to create a venue that just felt like you had stepped outside your own world and into something altogether different"
—Reed Kroloff, Cranbrook Academy Executive Director, former Editor-in-Chief of Architecture magazine
——————————————————————————————————————
Like most SiTE:LAB projects, this exhibition had its origins in a unique opportunity. In January 2011, Locus Development, a Grand Rapids real estate developer purchased the old Junior Achievement building at the corner of Division and Fulton. This long-vacant structure had been on the radar of Paul Amenta for some time. Amenta knew the Locus principals from a previous exhibition he had done in another of their properties. While he originally pitched the idea of a one-night-only event to take place in April, Locus countered with a more intriguing offer: renovations to the building would not commence until January 2012, so the space could be made available to SiTE:LAB for an entire year.
Artists
Assocreation
Ericka Beckman
Anya Belkina
David Bowen
Alois Kronschlaeger
Loren Madsen
Meghan Reynard + Patrick Ethen
Nick Tobier + Juliane Stiegelehttp
Shinji Turner-Yamamoto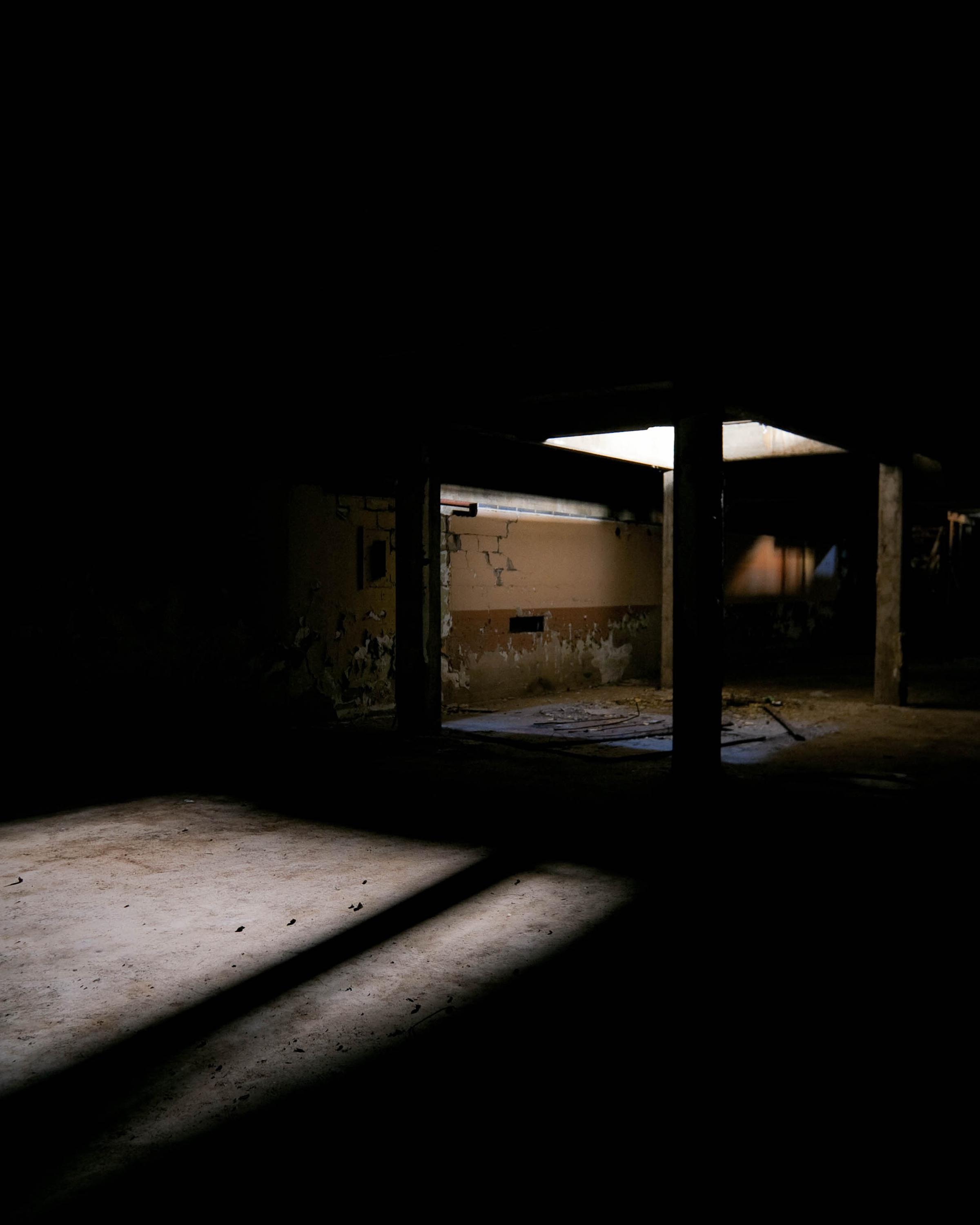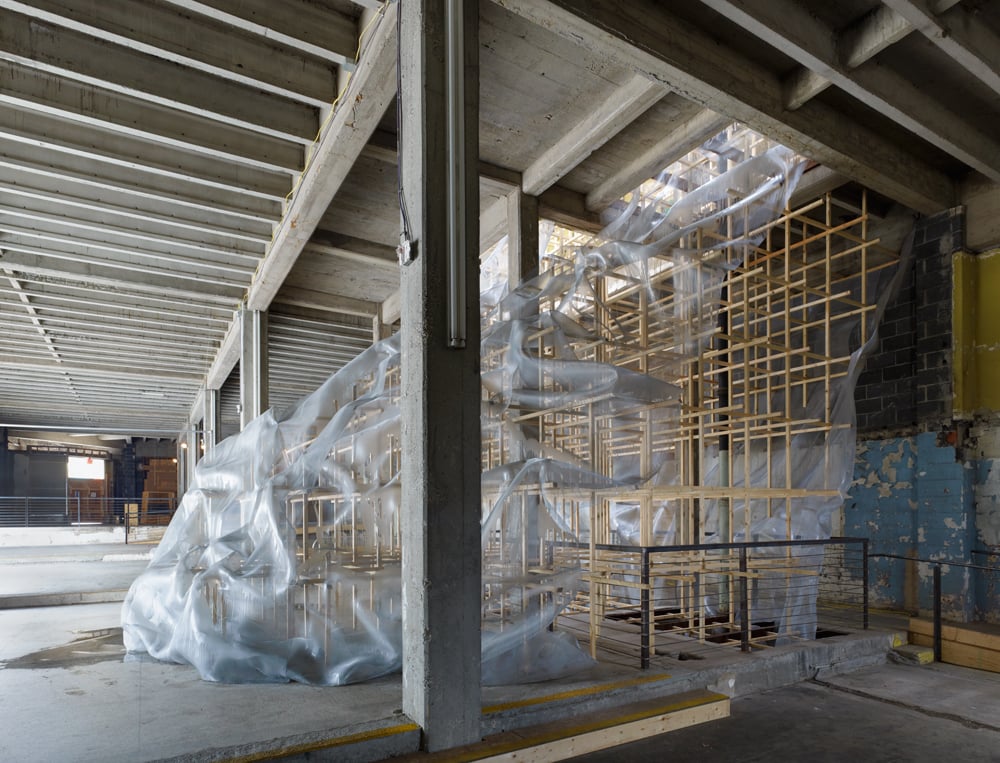 Spire
Alois Kronschlaeger
Kronschlaeger's work exists at the intersection of art, architecture, fashion and design. His forms are surreal and his materials simple, in the tradition of artists such as Frederick Kiesler and Buckminster Fuller. Kronschlaeger is best known for his site-speci c installations and sculptures, which demonstrate a preoccupation with environment and light, as well as an interest in exploring time and space via geometry. Kronschlaeger is represented by Cristin Tierney in NewYork.
Combining elements of biomorphic and geometric abstraction, Alois Kronschlaeger has created a giant spire composed entirely of aluminum mesh, wood and poured paint. Spanning three floors of an abandoned commercial building hosted by SiTE:LAB on the corner of Division and Fulton in Grand Rapids, SPIRE is impressive in scale and subtle in its aesthetics, occupying a central, vertical space.The work looks and feels as if it were sprouting from the basement, growing through the space and eventually shooting through the roof awakening the building with new life. Measuring more than 65 feet in height, SPIRE represents Kronschlaeger's most ambitious project to date.
Disappearances - An Eternal Journey
Shinji Turner-Yamamoto
Born in Osaka, Japan, ShinjiTurner-Yamamoto's site-specific installations worldwide include Ireland, Finland, Italy, Japan, India, Mongolia, and USA. His Global Tree Project is an international art initiative that opens and af rms connections between audiences and the natural world. He studied at the Kyoto City University of Arts, and, sponsored by the Italian government, at the Accademia di Belle Arti, Bologna, where he lived for eleven years.
Recent projects: MONGOLIA 360°: Int'l Land Art Biennial; HANGING GARDEN, Holy Cross Church; DISAPPEARANCES, Contemporary Arts Center, Cincinnati. He is working with Bernheim Arboretum and Research Forest on a forthcoming project with lightning-struck trees. A monograph will be published by Damiani in fall 2012. Recent publications: Orientations, DIAOSU, My Green City (Gestalten), and CSPA -The Center for Sustainable Practice in the Arts (Los Angeles).
Prizes: Gold Leaf Award, Int'l Society of Arborioculture; UNESCO- ASCHBERG Bursaries for Artists; Pépinières Européennes pour Jeunes Artistes; firrst prize,Targetti Light Art Collection.
When we drive, heat our homes, or cook, we burn oil, coal, or gas, fossils created by the decay of plants and animals 350 million years ago. A curiosity about minerals and fossils has long informed my work. While an art student in Kyoto, I collected them in abandoned mines, mountains, and rivers. They fascinated me for their beauty, but also for the perfect relationship between them and their matrices — the solid matter in which a fossil or crystal is embedded. Taking them from matrices was completely different from collecting stones on the beach or from a river bank. I needed tools to remove them from these rock masses. Seeing smoky crystals in a small hole at the corner of an enormous rock, they moved me; their holistic beauty seemed sacred, untouchable. I returned thinking I would take one crystal, which meant destroying innumerable small crystals. With each blow, they disappeared, transformed into white powder.The change was like the scattering of our ashes, a profound vanishing of beauty. The taboo I felt in the beginning evaporated.This ultimate material, powder and dust, which seemed eternally in the process of vanishing, became the singular material in my paintings, sculpture, and installations.
In DISAPPEARANCES - an eternal journey, I worked with fossil materials — CORAL (400 million years old), LIMESTONE (fossil rock in which the shells of sea dwellers are cemented in a solid mass), the CONCRETE oor of the exhibition space (created from burnt limestone), GYPSUM (made by ancient lake and sea water) — to create a landscape, an artistic ritual exploring a poetic reunion with nature, revealing the interconnectedness of all life. In their seemingly random encounters, I seek something beyond the accidental, the hidden. When we are conscious about the existence of these in nite connections, we emerge from our anthropocentric view of life and move into a holistic view. In doing so, we are freed from the limitations of death.
Apparition
Meghan Reynard + Patrick Ethen
Originally from Normal, Illinois, Meghan Reynard studied at Wellesley College and is currently pursuing her Masters of Fine Arts at the University of Michigan. In her studio practice, Meghan creates installations that utilize light to explore perceptions of natural and spatial phenomena. Her work develops from practices in art, architecture and design, as well as research into perceptual psychology, optics, and the environment.
Patrick Ethen was raised in Grand Rapids and recently graduated from the University of Michigan with a degree in Architecture. His installations tend to be phenomenal in nature and focus on the production of affect using minimal means.This is his second year participating in ArtPrize.
APPARITION is a site-speci c installation. It responds to the conditions of light and darkness in the 5,000 sq. ft. basement of the previously abandoned and unused 2 Fulton Street site. Participants enter into APPARITION through a dark corridor in the basement of the venue. As the eyes adjust to darkness, they discern multiple points of light suspended in space. Numbering in the tens of thousands and swaying gently in the darkness, the light offers an eerie, ethereal presence to the space. In designing the project, we aimed to elicit a momentary, altered, heightened awareness of the presence of light in the basement space.To achieve this goal, we created beams of light and suspended material that capture the light, appearing to glow in the dark space.The process included hanging over 10,000 yards of shing line, and many football elds in length of elastic.
(Untitled) Grinder
Loren Madsen
Part I: When I was a high school student near Seattle, I got into the habit of visiting the Seattle Art Museum, at that time devoted to Asian arts only. I loved the museum and would spend hours walking along 30' long narrative Chinese scrolls' the wrong direction, of course' making up stories to match the matchless images I was seeing. I began to notice the small red seals, 'chops,' at the edges of these pictures, and they became as compelling as the art itself. I didn't, at the time, do much with this fascination, but it was an experience that led me to making art myself, and ultimately to moving to NY where I had myriad museums and galleries of Asian art at my disposal.There I pursued Chinese seals, used by the artists to sign their works and by collectors to mark their approval and ownership. Eventually I took courses in Chinese language, characters and calligraphy, ultimately concocting my own versions of seal script (the script which preceded Chinese characters as they now appear) and with which I made a series of prints in 2002. I also became a collector of actual seals themselves and have spent many hours, days, weeks translating them laboriously. Some of them appear at chineseseals.blogspot.com.
Part II. After getting degrees in art and art history I did the usual: sought out a studio space. I found the rst of many' a ratty storefront which required immense labor to make usable. I became familiar with demolition, sheetrock installation and mudding, glazing, painting, electrical systems and, naturally and crucially, plumbing. A lot of plumbing; miles of pipe in spaces not built with running water and sewage in mind. So the piping was often long and convoluted. I practiced these skills so often in studio after studio that it came to me as a teacher that the rst elements of instruction for new artists should be the building trades.
So, UNTITLED (GRINDER) is both a script and a crazed mimicry of a functional system. But then, seal script itself is something of a crazed system, imposed on the Chinese people in 220 BCE by the rst, and violent, emperor of China. He also imposed a uniform system of weights and measures, and universal plumbing.
Tension Building
Ericka Beckman
Ericka Beckman is a filmmaker and artist whose work has shown in art museums: MoMA; The Whitney Museum of Art; Los Angeles MOCA; The Hirshhorn Museum; The Walker Art Center; Kunsthalle Bern, Switzerland; Centre de Georges Pompidou; The Museum Moderner Kunst, Vienna; Institute of Contemporary Art, London.
Her films have screened in festivals: New York Film Festival, San Francisco International Film Festival, Rotterdam International Film Festival, and MadCat Film Festival.
Her media work is in the collection of the Museum of Modern Art, The Walker Art Center, the New Media Department at the Centre Pompidou,The British Film Institute, and the Deutch Bank. She has received grants from Lef Foundation, Artslink, NEA, New York State Council on the Arts, and Massachusetts State Council on the Arts. In 2011, she had a lm retrospective at Anthology Film Archives in NYC and her work was included in THE PICTURES GENERATION SHOW, Metropolitan Museum of Art, NYC.
Since 2002 I have been making films that re-visualize architecture as a machine. I turn various architectural sites into motion machines, by animating the space with adjustments in lens framing, exposure variations and camera movement.The design of the space dictates the animation design. TENSION BUILDING is composed of 1930s concrete stadiums built in the US and in Europe and a model replica of them.
Tele-Present Water
David Bowen
David Bowen was born in the United States in 1975. He is an award-winning studio artist and educator. His work has been featured in numerous group and solo exhibitions and publications nationally and internationally. He received his BFA from Herron School of Art in 1999 and his MFA from the University of Minnesota, Minneapolis in 2004. He is currently an Associate Professor of Sculpture and Physical Computing at the University of Minnesota, Duluth.
The installation draws information from the intensity and movement of the water in a remote location. Wave data is being collected and updated from National Oceanic and Atmospheric Administration data buoy station 51003. This station was originally moored 205 nautical miles Southwest of Honolulu in the Paci c Ocean. It went adrift and the last report from its moored position was around 04/25/2011. It is still transmitting valid observation data but its exact location is unknown.The wave intensity and frequency collected from the buoy is scaled and transferred to the mechanical grid structure, resulting in a simulation of the physical effects caused by the movement of water from this distant unknown location.
Pink Prints - Grand Rapids Streetwear
Assocreation
ASSOCREATION (founded in 1997) is an artist collective based in Vienna (Austria) and Ann Arbor, Michigan. The group considers itself an individual. Its agents work anonymously. ASSOCREATION involves the public in an open play, while exploring the way human beings relate to both the space around them and the ground beneath their feet.
ASSOCREATION has presented among others at Jack the Pelican Gallery in Brooklyn (NY), Fabrica Gallery Brighton (UK), the Bienal de Valencia (Spain), the Ars Electronica Festival in Linz (Austria), as well as in the streets of New York, Warsaw, Zurich, Copenhagen and Paris.
Hundreds of white t-shirts are on the street in Downtown Grand Rapids. People are invited to slip into shoes that are provided, step into pink paint and walk all over the clothing. They leave their traces on the shirts, which are displayed afterward in the former Junior Achievement Building at the corner of Division and Fulton in Downtown Grand Rapids. Once dry, the shirts are sold and worn as clothing. Yesterday's steps are dispersed on apparel fabric in all directions. Happening and dispersal are a scatter diagram imaging Grand Rapids. The former Junior Achievement building, as a short-term cluster in this diagram, turns into an urban outlet that sells Grand Rapids Streetwear – the materialization of the sole's eeting contact with the ground – the concurrence of street, steps, clothing, dirt and paint.
Moston
Anya Belkina
Anya Belkina is Assistant Professor in New Media at Emerson College in Boston. Prior to joining Emerson in 2007, she held the position of Assistant Professor in the Practice of Art at Duke University. Belkina received her MFA from UC San Diego and her BFA from RISD. In Russia, she studied at the Moscow Art College In Memory of 1905. Belkina's work in the area of new media has been presented nationally and abroad at conventional exhibition venues as well as in the form of large-scale site-speci c installations, video projections, broadcasted media and cover art for literary journals.
Her award-winning animated shorts have screened at numerous national and international venues, including SIGGRAPH, ANIMATOR, RIIFF, Boston Museum of Fine Arts andThe Light Factory Museum in Charlotte, NC.
MOSTON's three-dimensional form and two-dimensional surface design conjure the technology-driven amalgamation of the two cities I love and regard as my home — Moscow and Boston. The intellectual trajectories of my earlier, formative work continue to in uence my present projects. Ideas and observations stemming from my bicultural experience and the larger issues of identity, immigration, and globalization are central to my present research. Because my current projects involve extensive use of 3D modeling and animation technologies, my work becomes increasingly interdisciplinary in fusing art with inquiries in areas of biology, physics and computer science. In addition to MOSTON, which embodies my internal conception of home and the cyberfusion of two geographically distant locales, my other current work-in-progress is SYSTEM PREFERENCES, an animated documentary about a tragic chapter in the history of Russian computing. While MOSTON's three-dimensional form references ethnically speci c artifacts, the visual appeal and conceptual ingenuity of "matryoshkas" reach audiences far beyond Russia and Russian diasporas. A universally understood symbol of sequential creation, these toys offer a tting framework for evoking the concentric evolution of Moscow's and Boston's city armatures.The implied nestedness of MOSTON is also congruent with the layered mental construct of "home," especially as perceived by individuals with multicultural backgrounds.The scale of the project is its essential trait not so much because my motherland is the largest country in the world with an impressive record of pursuing hopeless megalomaniac ventures, but mostly because "there is no place like home." The 3D prototype for the sculpture was created in Maya.
MOSTON's surface design explores visual and historical commonalities of Moscow and Boston, the commonalities which are more easily researched, documented and shared in the era of instant global networking.The designs and accompanying movies evoke revolutionary legacies of the two cities and a surprising number of cityscape lookalikes.
Marvelous Guests
Nick Tobier + Juliane Stiegele
NickTobier is a designer and agitator for the creative use of public space. His work is rooted in the social lives of public places. His interest in the potential of public places has manifested itself in built public projects and actions in San Francisco, Detroit and NewYork, internationally fromToronto toTokyo, and on the stage and in the streets from Milan to Paramaribo, Suriname and atThe Edinburgh, Minneapolis and Philadelphia Fringe Festivals.
Juliane Stiegele creates interventions in public space, installations and video. She lives and works in Augsburg and Munich, Germany, and writes, "As an artist, I create in order to be a different person afterwards."
A ballet dancer in a laundromat.
A gold sh swims in a bowl on
the navigation bridge of a riverboat.
A copy machine copies while an actor copies the machine.
The clothes dryer is turning. Slowly, the contents rotate 360 degrees clockwise. And then again. For ten minutes, or until another coin is inserted. Such is the elegant monotony of a laundromat, as each machine perfects its movements over set intervals. Next to the wall of dryers, a ballet dancer performs a stretching sequence. Extending an ankle and rotating the foot. First clockwise, 360 degrees, over and over. Then again.
This project lends new working conditions and meanings to several trades by inviting professionals to conduct their business in unusual locations—as a guest. Each encounter will produce its own unusual forms of communication on location. We see the relationship between guest and host as dynamic, and not without friction as each adjusts to the other. Much like an oyster, our guest is perhaps the catalyst who needs a host in order to make a pearl. An irritant at rst, a persistent question, but ultimately, we hope, a marvelous new relationship evolves.
By taking activities out of their familiar environment, we see them for their physical essence. Work in a new place affords us all—the workers, the environment, the spectators—a chance to see something beautiful, poetic, possibly absurd, precious or powerful. At the same time, the environment offers a new context for the worker to recognize the implications of what occurs rather unremarkably on any other given day. We challenge each of you to be a guest or host, to transport your work to a new location or to welcome another to your place, whether through the poetics of motion, humor, or simple curiosity.
Locations: Creston Sit-n-Spin Laundromat, 1593 Plain eld Ave.; Screaming Gnat Studios Printing, 215 Logan SW, Suite 215; Grand Lady Riverboat, 4243 Indian Mounds Drive SW.
With thanks to our marvelous hosts: Steve Molewyk, Chris Austin, Barb and William Boynton