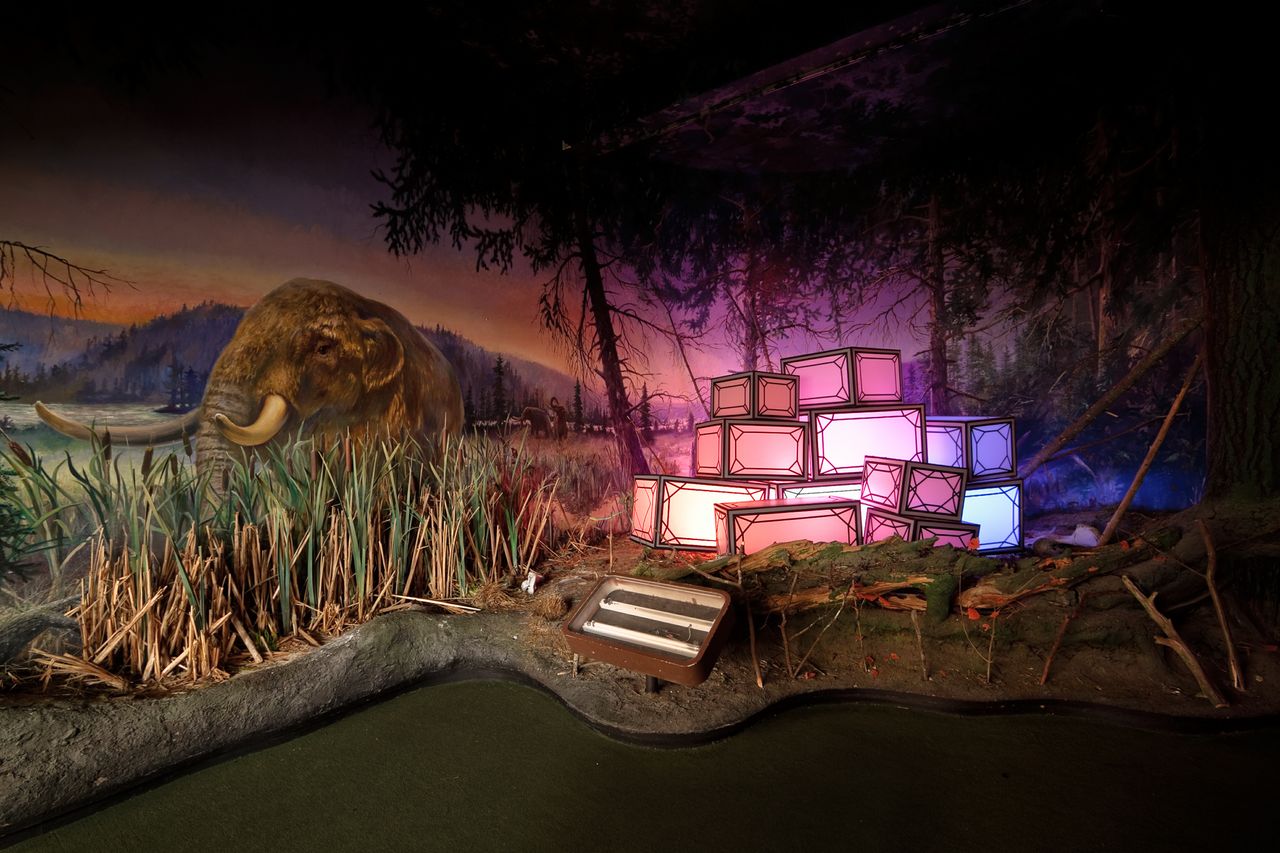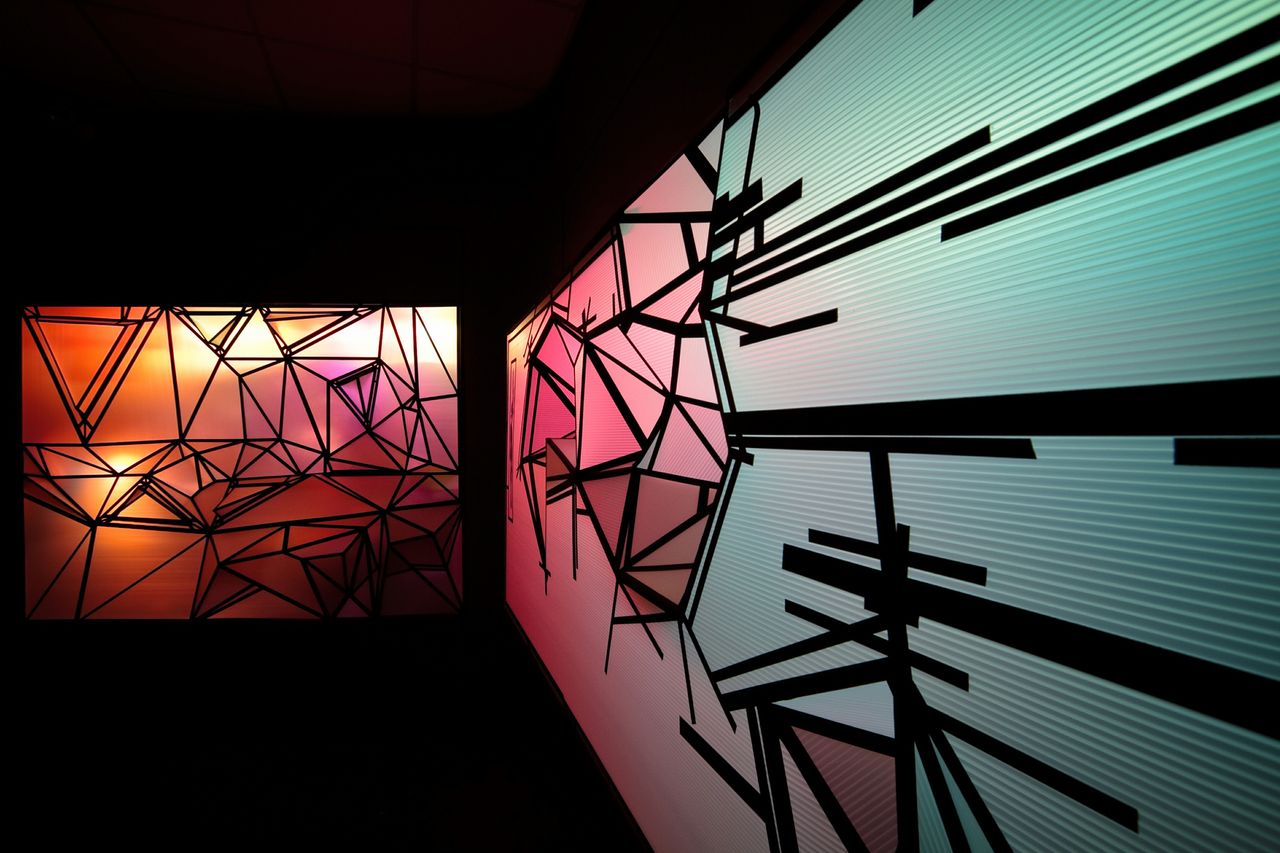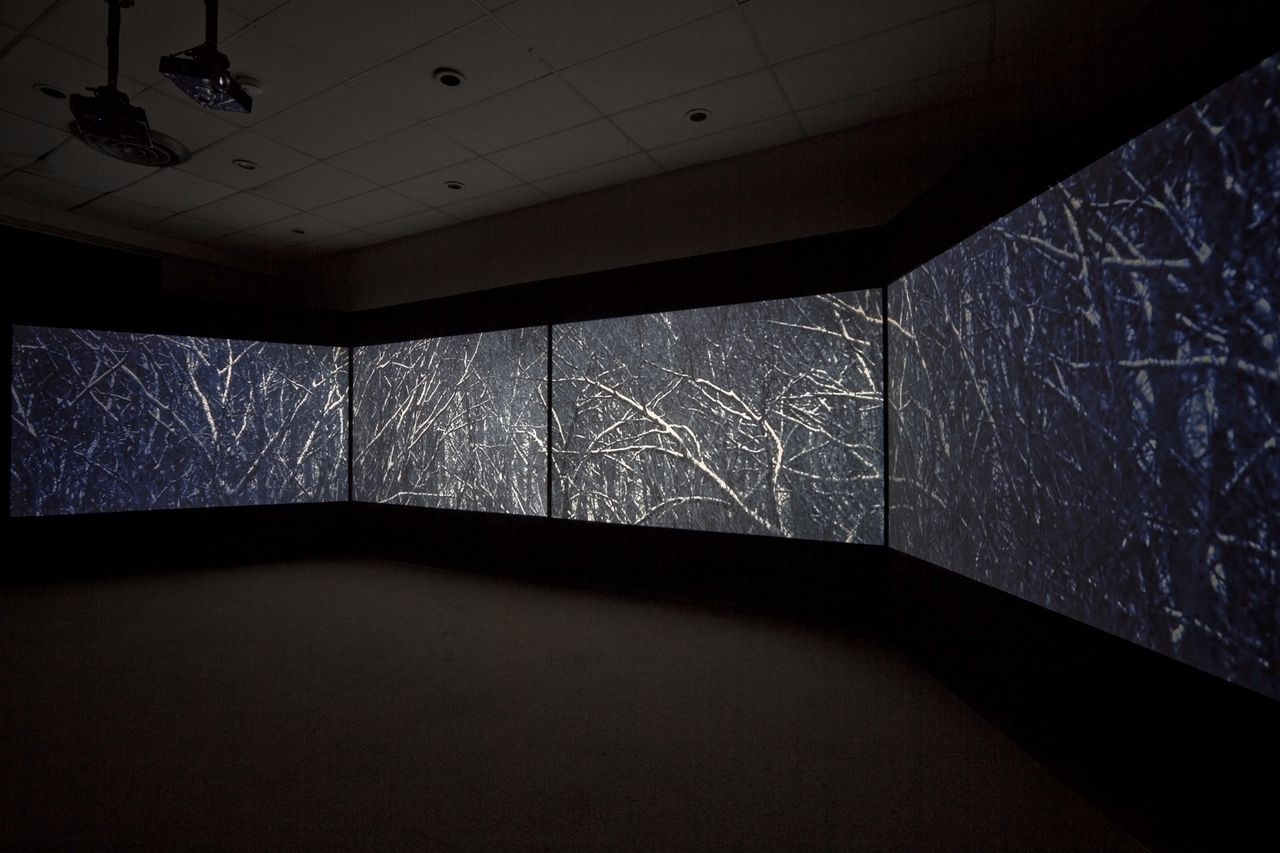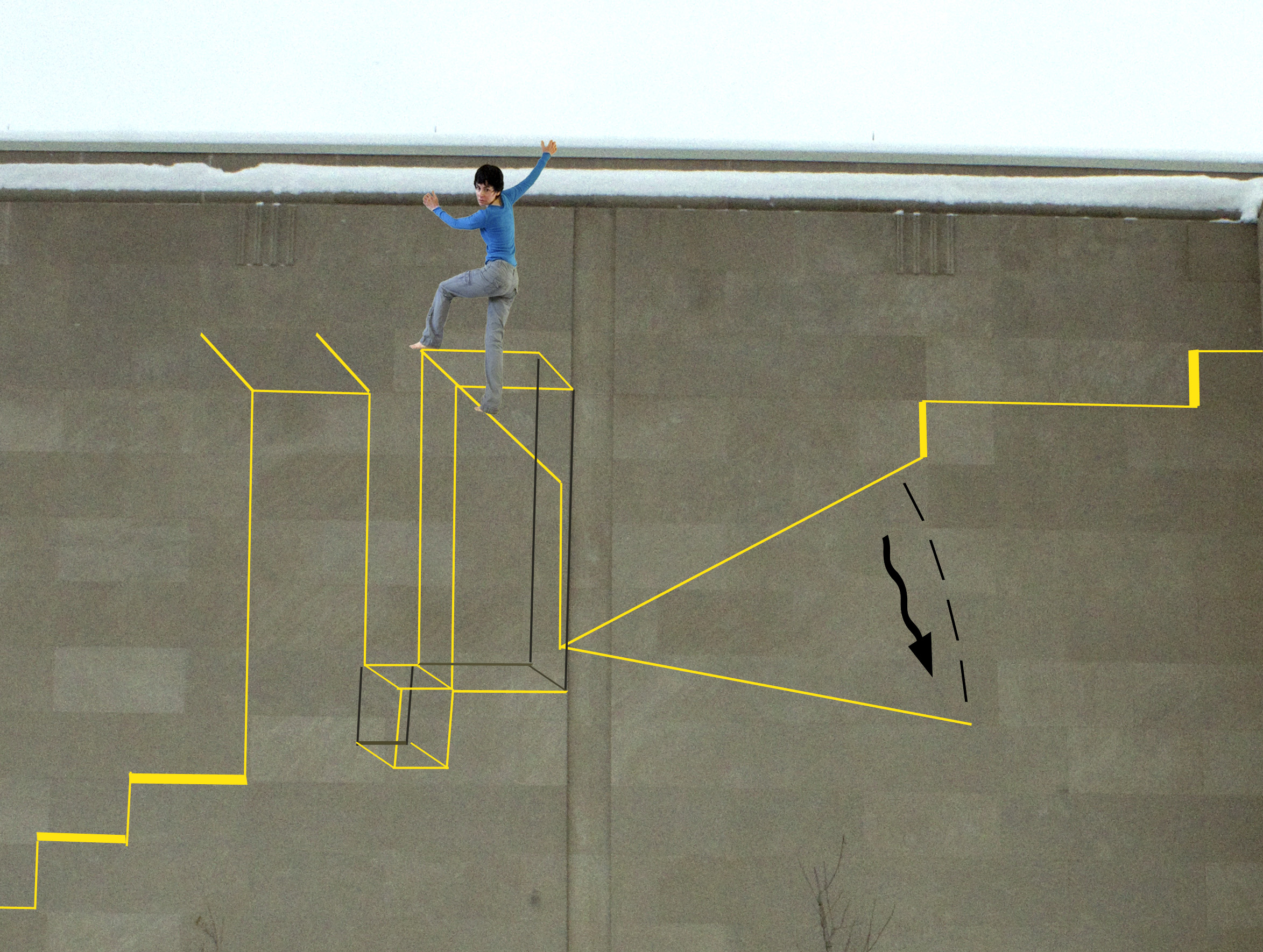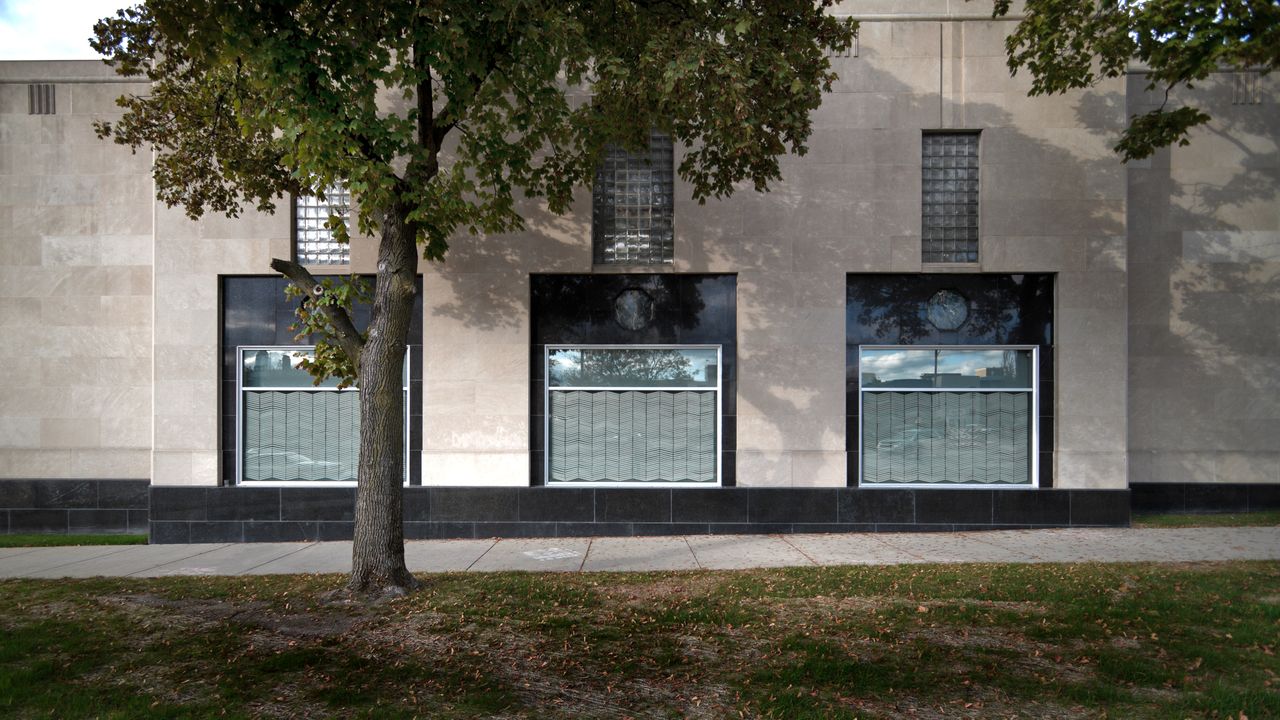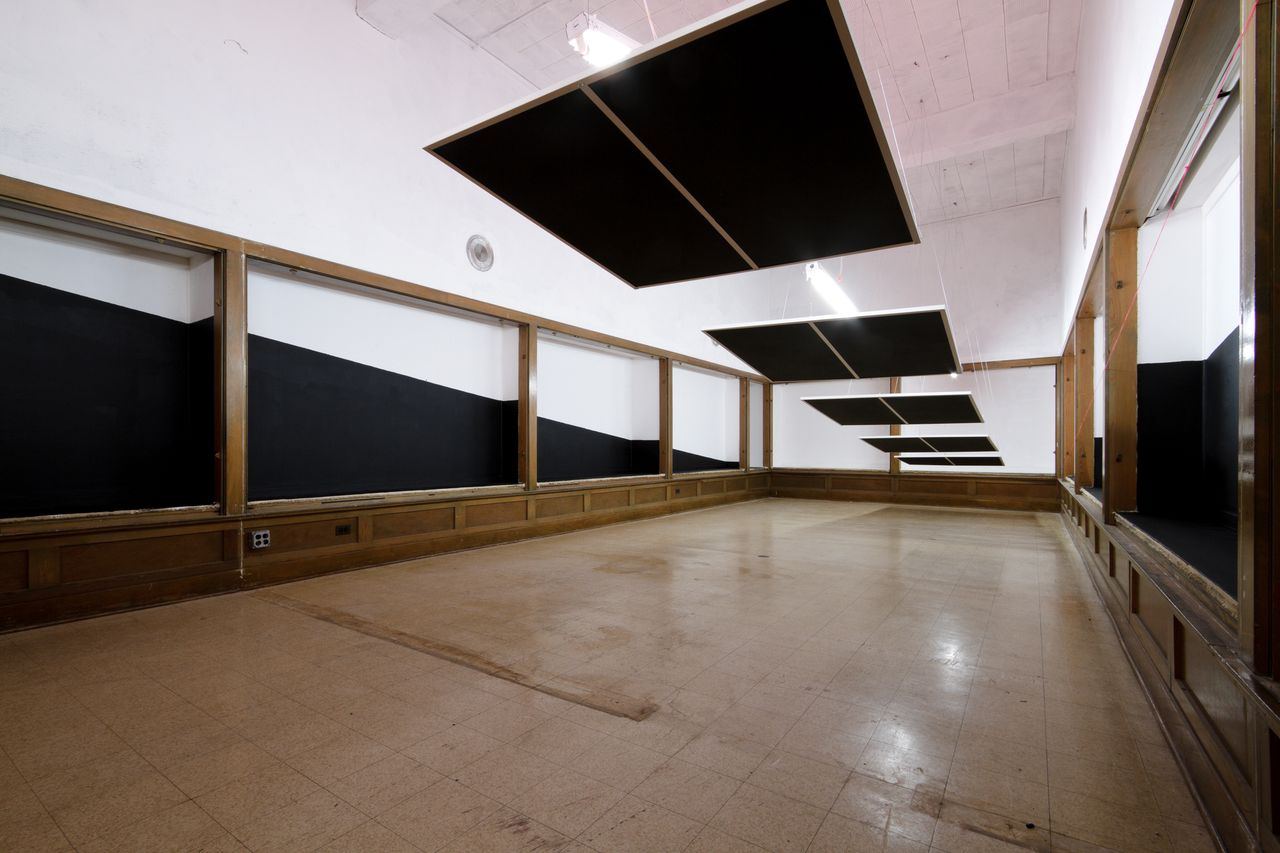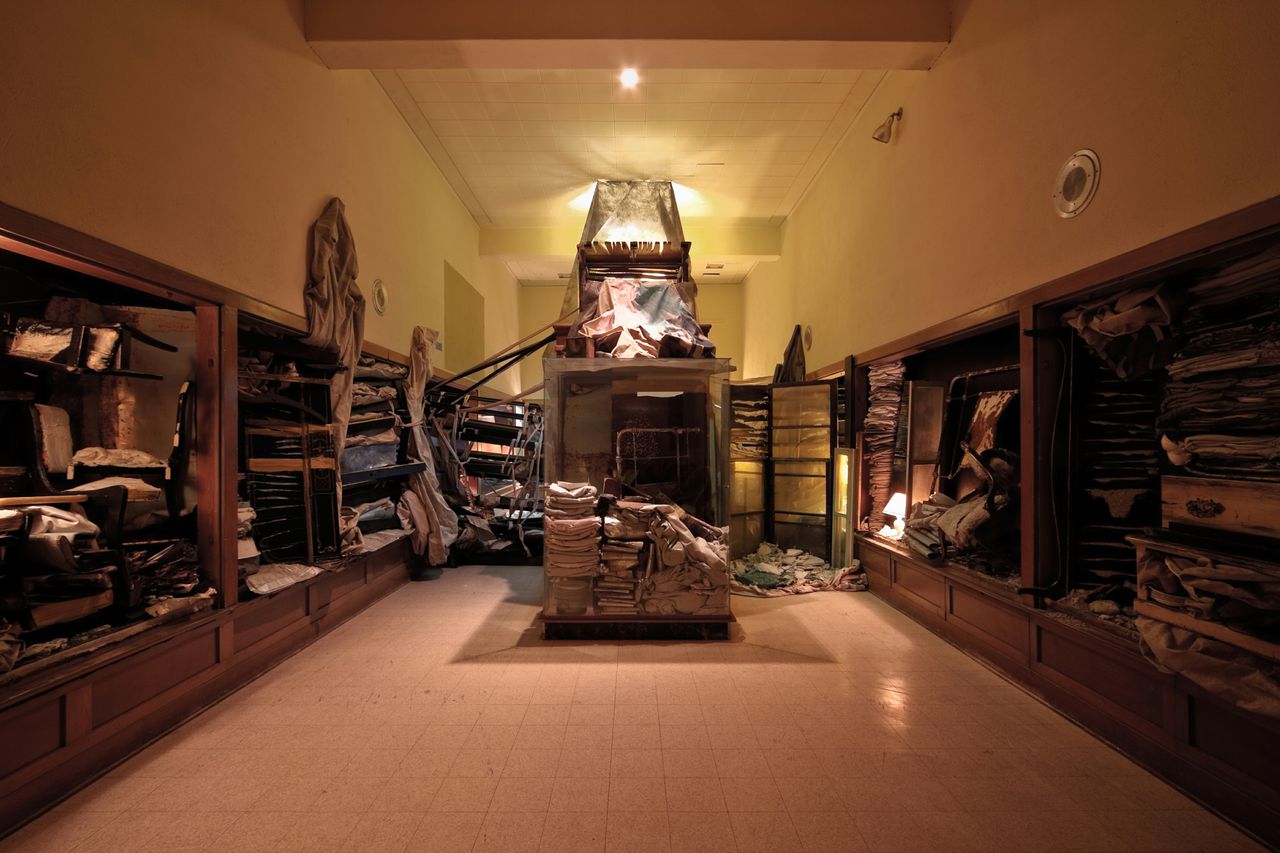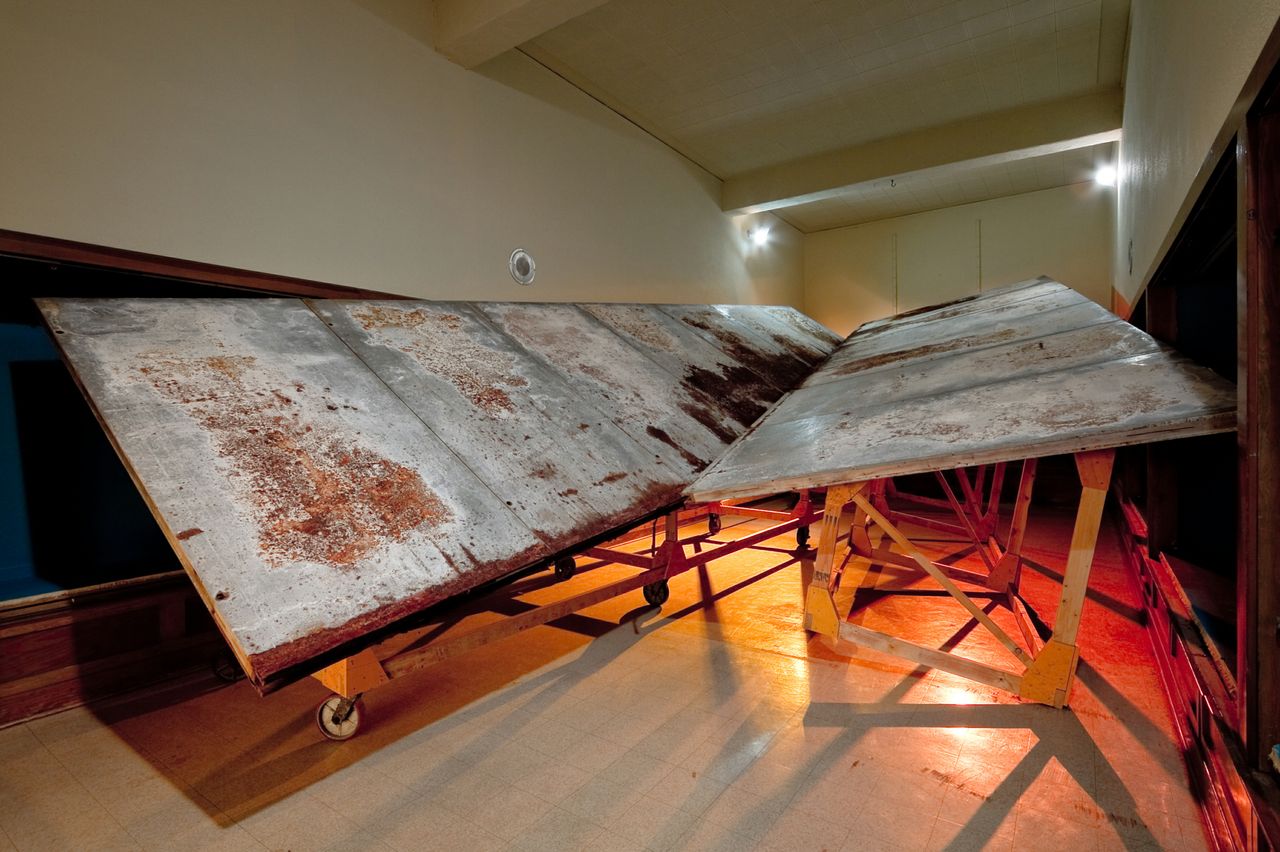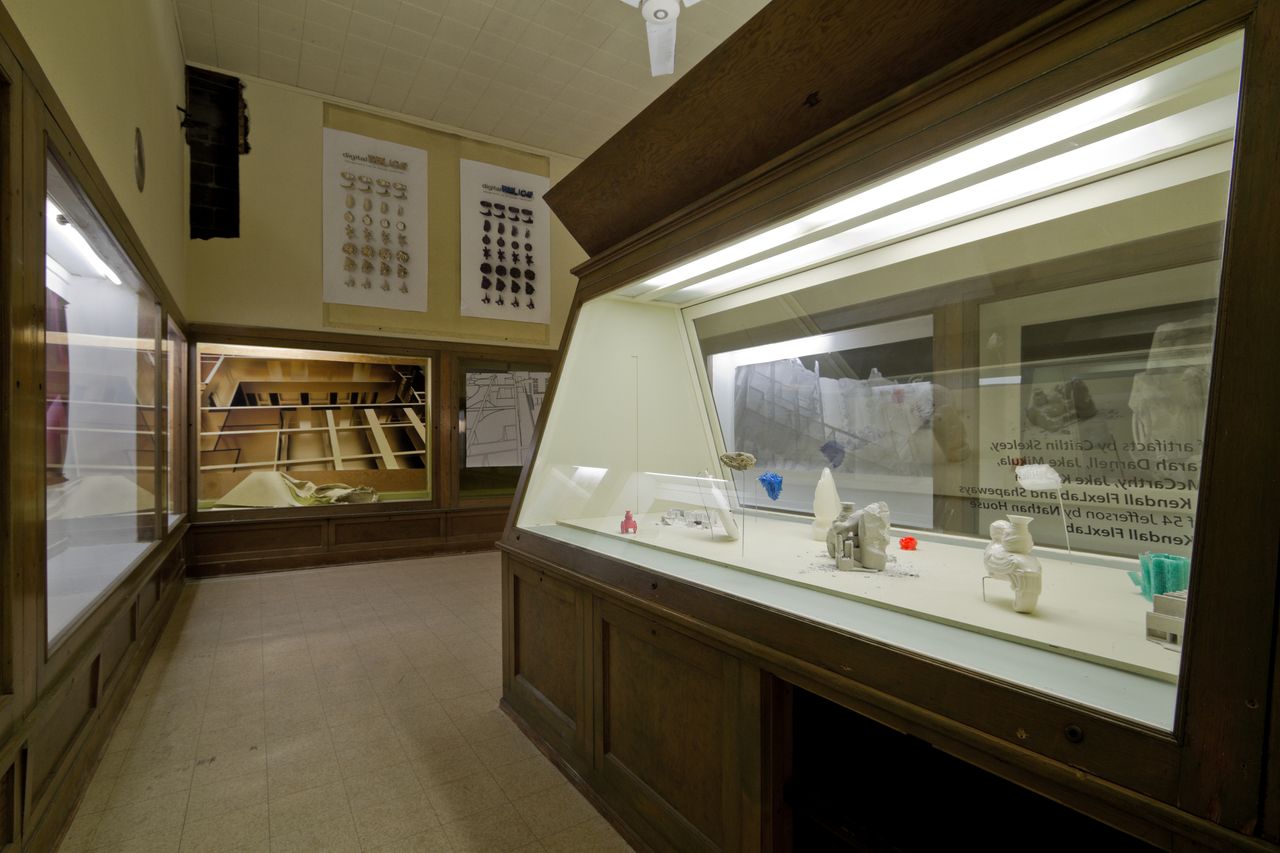 THE NOT YET (2013)
"Every time I've ever seen one of these shows, it's one of the best things I've ever seen. And I think SiTE:LAB . . . should be in Frieze, Basel, Basel Switzerland, Basel Miami, everyplace. . . . I just think it's some of the best, most witty and creative, open. Chaotic. In the best sense of the word. They bring the chaos, where new order comes from."
—Jerry Saltz, Senior Art Critic, New York magazine
——————————————————————————————————————
54 Jefferson, home to the Grand Rapids Public Museum from 1940 to 1994, was repurposed as an ArtPrize venue by SiTE:LAB, winner of the juried award for outstanding venue the last two years. Vacant since the museum moved to the Van Andel Museum Center, 54 Jefferson was left largely intact. Extant dioramas, showcases and exhibits provided a unique environment for an exhibition of site-specific work organized by SiTE:LAB founder Paul Amenta.
54 Jefferson is being made available to SiTE:LAB through the generosity of the Grand Rapids Public Museum and the City of Grand Rapids.
ARTISTS
ACK!
Carlos Bunga
Dance in the Annex (DITA)
Displace
Stephen Hendee
KCAD FlexLab
Arthur Liou
Melanie Manos
Matthias Neumann
Maureen Nollette
Natalia Roumelioti
Julie Schenkelberg
SCHAUM / SHIEH
SiTE:LAB + Citizenshirt + Not Design
Mark Dean Veca
Graem Whyte
54Jeff Ideas Competition

Jerry Saltz / SiTE:LAB The Not Yet
Ecosystem
Carlos Bunga
Carlos Bunga creates process-oriented works in various formats — installations, sculptures, paintings, performances, video and drawings – that refer to and intervene in their immediate architectural surroundings. While often using ordinary, unassuming materials such as packing cardboard and adhesive tape, the results involve a highly developed degree of aesthetic care and delicacy, as well as a conceptual complexity derived from the interrelationship between doing and undoing, transience and permanence, unmaking and remaking, the micro and the macro, the investigation and conclusion.
Thanks to DeWitt Packaging for its donation of material for this project.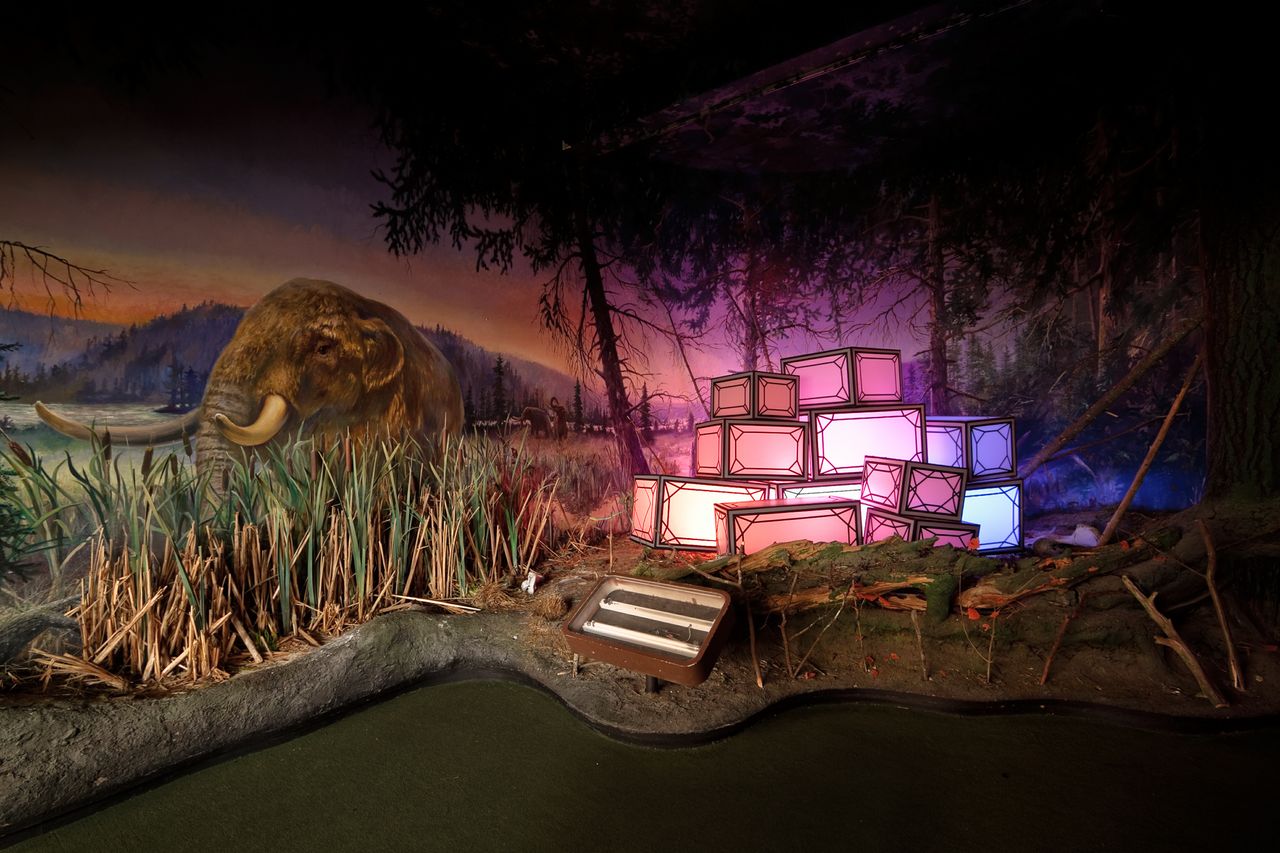 The Last People
Stephen Hendee
Stephen Hendee's 2013 ArtPrize entry at Site:Lab, The Last People, portrays a natural history exhibit in the distant future where humanity has been replaced by intelligent machines. These beings, like us, desire a shared understanding of their ancient origins.
Stephen Hendee is a sculptor who builds objects inspired by digital culture, speculative fiction, and architecture. His work has been exhibited at P.S.1 Contemporary Art Center, The New Museum, Sculpture Center, and The Whitney Museum Of American Art at Altria. Recent awards include a fellowship at the MacDowell Colony.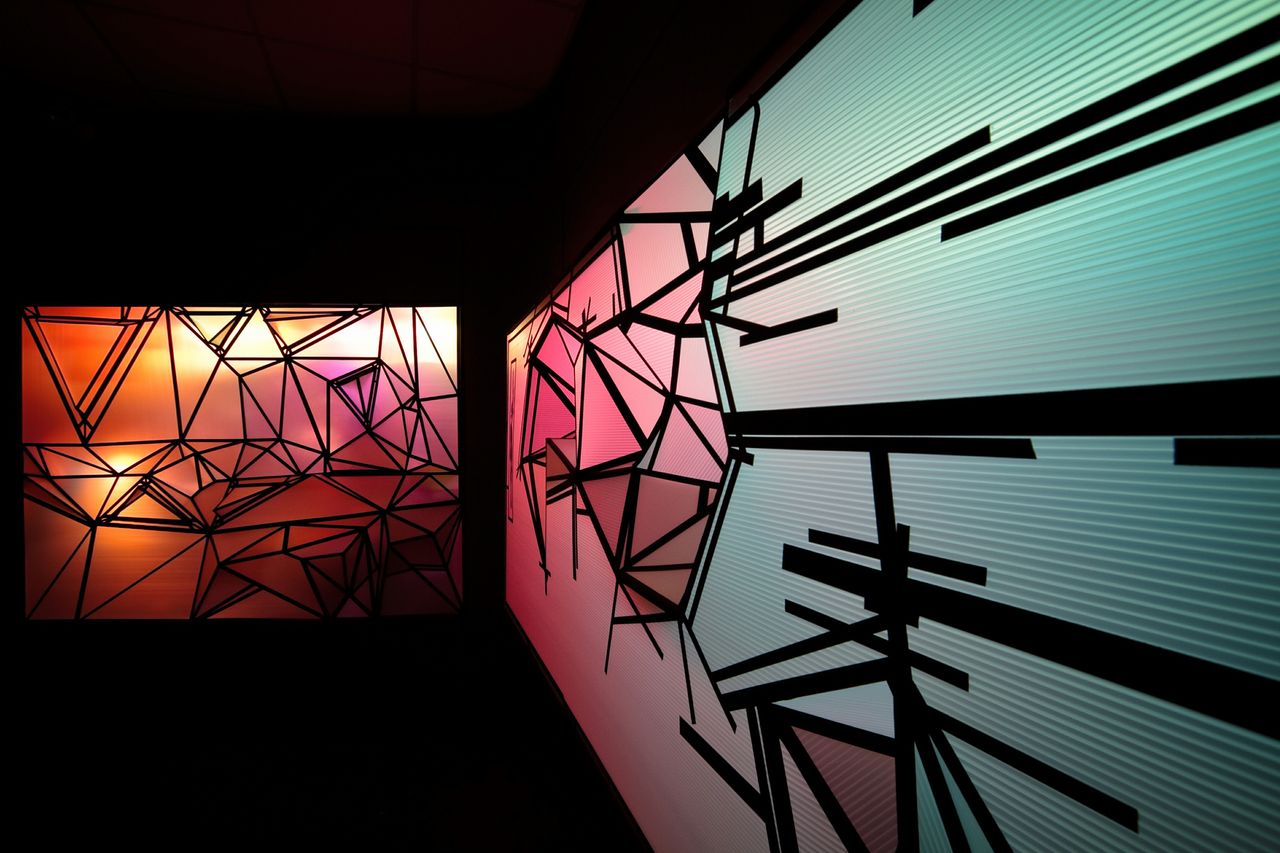 Architectural Digest
ACK!
ARCHITECTURAL DIGEST scaffolds experimental art, architecture, and design upon a fictional short story narrative in an effort to stoke alternative urban discourse. This dialogue is meant to be widely accessible, and is therefore crafted from the perspective of a young child. The story unfolds at multiple scales and across varied media – purposefully pitting material, color, surface, and story against one another. This multimedia mash-up affords our crew unexpected overlaps in collaboration as well as eccentric exploration within our individual disciplines. "… TV, a young girl from Detroit, begins to generate urban fantasies which bridge her capricious environment with its incomprehensible commentary. She places this daydream within her favorite place, The Guardian Building, located within downtown Detroit. TV ponders the future of this special place while trying to reconcile the scale of forces which effect other structures across town. "
A C K ! is comprised of emerging multidisciplinary professionals who share common interests in entrepreneurial urban futures. Their work concerns itself with the radical reevaluation of contemporary urban existence, and seeks to elicit public engagement across varied and often unorthodox media. To facilitate this contrarian practice, they situate themselves in Detroit, MI – which they believe to be an epicenter for experimental urbanism and a hub for industrial processes, materials, and space. The culmination of these forces; collaboration, place, and substance, seek to perpetually define both craft and the role of the practitioner within an increasingly complex professional existence. Their collective body of expertise consists of extensive architecture, design, and fine art production and is often the result of preeminent institutional commissions. Recent individual accomplishments include residencies, international exhibitions, and long phase project funding.
A C K ! consists of architect Aaron Jones, artist/2D designer Andrea Cardinal, artist/3D designer Christopher Schanck, journalist Kelsey Campbell-Dollaghan, artist/3D designer Peter Beaugard–and is facilitated through the mentorship and support of Wesley Taylor and Waajeed."
Year Of The Snake
Marc Dean Veca
Year of the Snake, is a site-specific installation that examines the identity and evolution of the old Public Museum of Grand Rapids, through its architecture and history, by transforming the entire Grand Hall into an interactive social environment. In it's original incarnation, the Museum exhibited myriad species, from the greatest whale to the smallest snake. According to the Chinese Zodiac, 2013 is The Year of the Snake. The snake, through the shedding of its skin, is a symbol of transformation. The Museum is experiencing a similar transformation; into what, only time will tell.
Sponsors: Flavor Paper, Hurley, Avery Dennison, Justin Pate, Xibitz, Coolsofa.com
Mark Dean Veca lives and works in Los Angeles. He graduated with a BFA from Otis Art Institute, Los Angeles in 1985. Recent solo exhibitions include: Made For You and Me, Cristin Tierney Gallery, New York (2013); Mark Dean Veca: Raging Opulence, San Jose Museum of Art, San Jose, California (2012); and When the Shit Hits the Fan, Western Project, Culver City, California (2010). Recent group exhibitions include: California-Pacific Triennial, Orange County Museum of Art, Newport Beach, California (2013); Pop Culture: Selections from the Frederick R. Weisman Foundation, Frederick R. Weisman Museum of Art, Malibu, California (2012); Visible, Harris Art Gallery, University of La Verne, La Verne, California (2012); and Under the Influence: The Comics, Lehman College Art Gallery, Bronx, New York (2012). He received fellowships from The New York Foundation for the Arts in 1998, 2002, and 2008, The Pollock-Krasner Foundation in 2006, and a City of Los Angeles (C.O.L.A.) Grant in 2011.
Angle Of Repose
Dance In The Annex (DITA)
Angle of Repose is a site-specific exploration of gravity's impact on bodies in motion. DITA dancers will create original, time-based works at SiTE:LAB, performing on a steeply slanted stage, also incorporating sound, light, and video – creating a dynamic, multi-sensory environment that is always changing, both for dancers and audiences. The slanted stage transforms movement by changing the physical forces bearing down on the dancers, redefining their relationship with gravity, mass, acceleration, and friction. The performers adapt technique to navigate this altered state, recalibrating what is involved with motion.
The installation is made possible through support by Goodrich Quality Theatres, Lott3Metz Architecture, John S. Hyatt & Associates and The Ralph Livingston III Arts Memorial Fund.
With a focus on artistry and technique, creativity and collaboration, Dance In The Annex's (DITA) mission is to secure, promote and enhance modern dance in Grand Rapids by fostering an appreciation of dance through education and performance opportunities.
Displace
Displace
Displace is a study in material and optical distortions as captured in mirrored glass. The work is comprised of a physical installation in the historical Calkins Law Office, and the paired film Semblance on view inside 54 Jefferson. The work seeks to create a peculiar occupation of the space, while also presenting, in reflection, the further existence of the space through distortion, multiplicity, scale, and displacement. Symmetries, patterns, and realities are disrupted.
Displace have been generously funded by the Taubman College of Architecture and Urban Planning Research Through Making Grant.
Catie Newell is an Assistant Professor of Architecture at the University of Michigan and founding principal of *Alibi Studio, Detroit. Newell's work and research captures spaces and material effects, focusing on the development of atmospheres through the exploration of textures, volumes, and the effects of light or lack thereof. The work often reconfigures existing domestic spaces. Newell's creative practice has been widely recognized for exploring design construction and materiality in relationship to location and geography, and cultural contingencies. Newell's Salvaged Landscape won the 2011 ArtPrize juried Urban Space award.
Grant Weaver is a designer and filmmaker, currently working with *Alibi Studio in Detroit. He holds a Master of Architecture and a Bachelor of Science from the University of Michigan with high distinction. He also holds an Associate of Science and Arts from Northwestern Michigan College. Weaver has collaborated on numerous research projects culminating in full scale installations, exhibited in galleries such as the Parsons New School Gallery, NY, the Extension Gallery, Chicago, and most recently the Venice Architectural Biennale in Venice Italy. Weaver's current research is focused on material systems and their behavior, often explored through the peculiarities of a site. As a body of ongoing research, these investigations seek to create an interactive dialogue between the architecture, occupant, and environment.
Wes Mcgee is the Director of the FABLab at the University of Michigan Taubman College of Architecture and Urban Planning and a principal at Matter Design Studio, which he founded with Brandon Clifford in 2008. He also holds a lecturer position in the College where he teaches courses in robotic fabrication, and conducts research on advanced fabrication methodologies. The primary focus of the FABLab is to develop innovative fabrication workflows for architecture. His recent work includes an installation at the OSU Knowlton School of Architecture entitled La Voute Lefevre, which was published in Monitor Vol 68, and a large scale robotically fabricated steel structure in the Australian Pavilion at the 2012 Venice Architecture Biennale.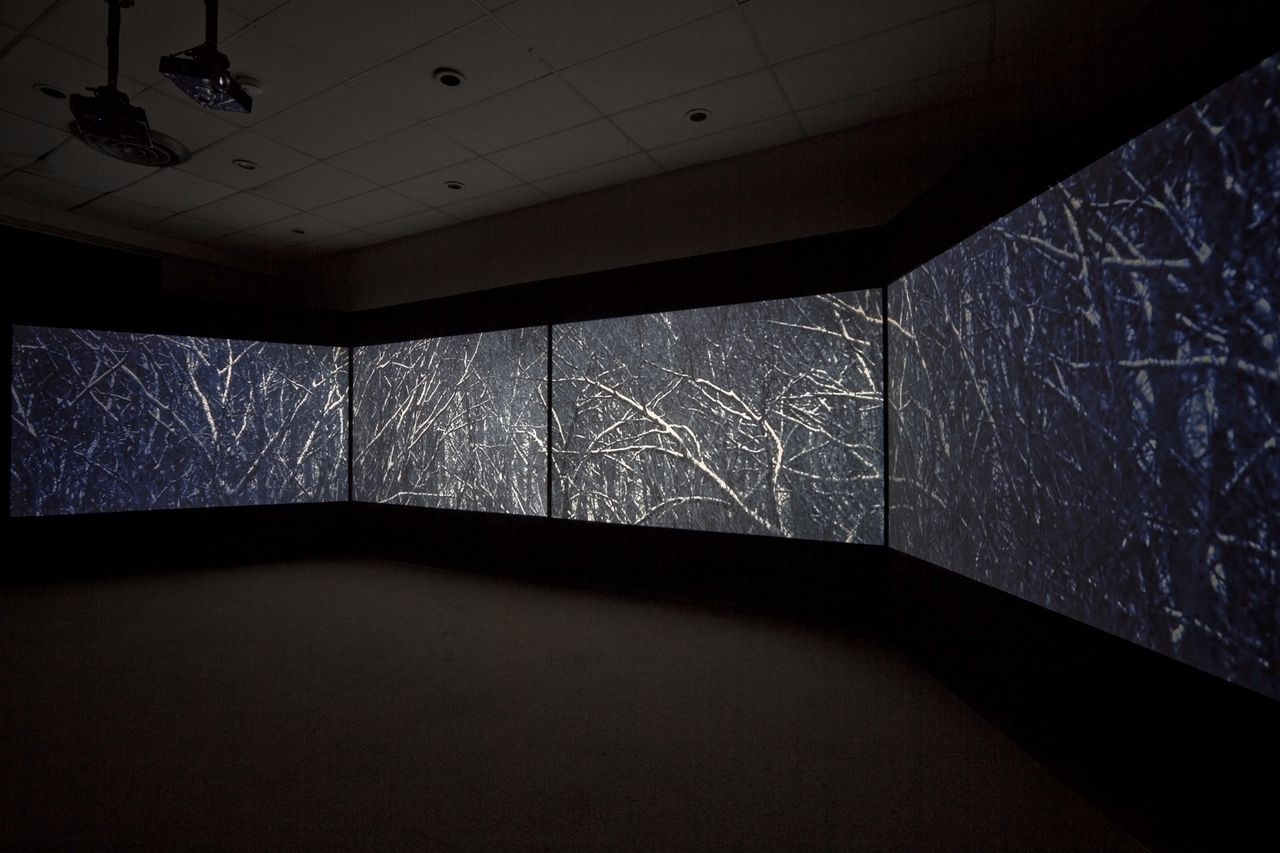 Sonnet 27
Arthur Liou
Sonnet 27 is inspired by the scientific research regarding the brain's ability to produce the chemicals that bind to the same receptors as does marijuana. These receptors are involved in certain crucial cognitive functions, including our ability to learn, control emotions, and mitigate traumatic memories. The video installation alludes to the pre-historical contact between human and marijuana. Aside from the simulated cave painting and a Neolithic child, the shifting scenery between brain cells and dramatic landscape creates impressions of distant memories and altered streams of consciousness. The film is produced and presented in a unusual 5120×800 resolution. Four to Five projectors are blended into one seamless ultra panoramic video. The work features powerful microscopic imaging of neurons and footage captured by an ultra-high definition RED camera.
The Climb, 54 Jefferson
Melanie Manos
The Climb: 54 Jefferson is a site-specific video projection on the outside front wall of Site:Lab. The projected video features a woman (Manos) endeavoring to find her way up, across, and into the the former Grand Rapids Public Museum. The work offers an existential loop of human effort that teeters between absurdity and heroics. Will she make it?
Melanie Manos is an interdisciplanary artist working in performance, digital media, print, sculpture and installation. Recent exhibitions include Inside/Out, Mechelen, Belgium; Fractured Perspectives, Affinity Gallery, Los Angeles; Re/spond/Re/peat, Soapbox Gallery Brooklyn, NY; and Dlectricity, Detroit, MI. This past summer Manos presented her work at Kyoto City University of Arts, Japan, and was artist-in-residence at the Frank Lloyd Wright School of Architecture, Taliesin, WI, where she created and exhibited video and photographic collage addressing the body and the built environment. Manos collaborates with Sarah Buckius as The ManosBuckius Cooperative, exhibiting videos globally in video and electronic art exhibitions. Born and raised in Detroit and Grosse Pointe, MI, Manos holds a BA, 1999, UCLA and an MFA, 2008, UM. She is an adjunct faculty member at the UM Stamps School of Art & Design teaching time-based art and Detroit Connections, an inter-generational collaborative art class.
"Sponsors: Duderstadt Center Digital Media Lab, University of Michigan ATS Rentals"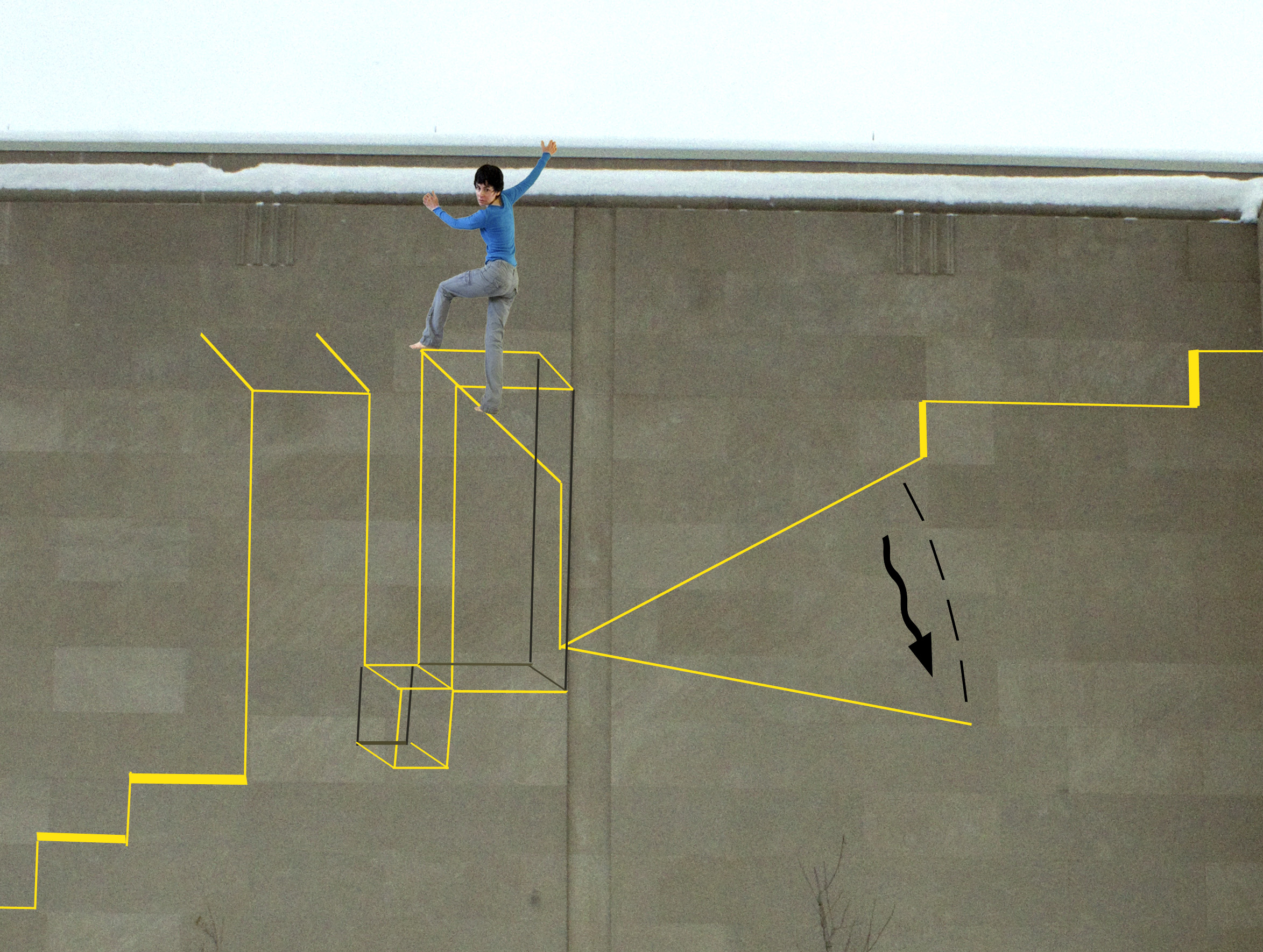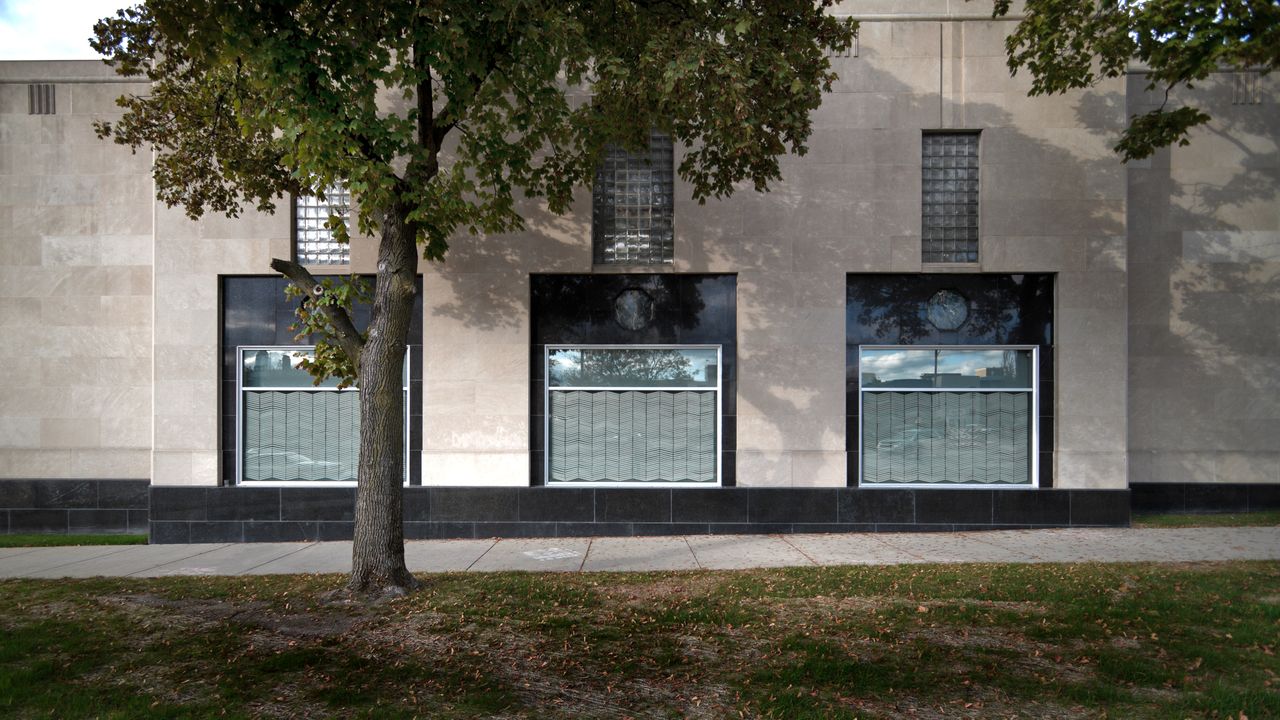 with/without
Maureen Nollette
Covering the windows at Site:LAB with transparent and semi transparent materials creates a situation where a viewer must look at the windows and not through them. This intended redirection of expectations is created by using ordinary materials for unusual purposes. Hand cut contact paper (shelving paper) is patterned after a graphic element found on the facade of the building, referencing it without directly copying it. It is then repeated across all of the windows, lit and backed by scrim; the pattern disappears at times, casts shadows, and sets up anticipation for the interior.
My work has been shown internationally and throughout the Midwest and East Coast, and is held in public collections including Detroit Institute of Art Museum, Yves St. Laurent, MGM Mirage Hotel, the Birch Pond Group (j.jill Retail Stores) in addition to private collections. I am a recipient of awards and honors including Honorable Mention in the 25th International Juried Art Show in NJ, alternate for the Maria Walsh Sharpe Foundation Studio Award in NY, the Graduate Award from the City University of New York, and Honorable Mention in the 12th Annual National Small Works Exhibition in NY. I was Guest Lecturer at Calvin College, Grand Rapids Art Museum and School of Visual Arts and taught for four years at Kendall College of Art and Design. I hold a MFA from The City University of New York, Queens; a BFA from Kansas City Art Institute, and a BA from University of Nebraska.
My work adopts repetition, pattern and the grid to communicate information that references the passage of time. Sensual, subtle, non-representational and systematic, the work is composed of a dense accumulation of ordinary materials positioned through labor-intensive processes that allow the materials to transcend their perceived function. This process of making is slow, deliberate, and connects my thoughts to the physical world; and through my process, the everyday, the in-between, the time spent waiting is implicit and results in a form. I often use the grid as a connecter for my materials. The order of a grid allows the imperfections of my actions to be noticed and deify the implied perfection and logic of the underlying structure. The historical signi!cance of the grid in quilting and in high modernism (craft and art) is also of great interest to me. Both employ the grid as a vehicle yet are valued unequally by contemporary society. Craft is regulated to a utilitarian function or women's work, while art is given a higher value.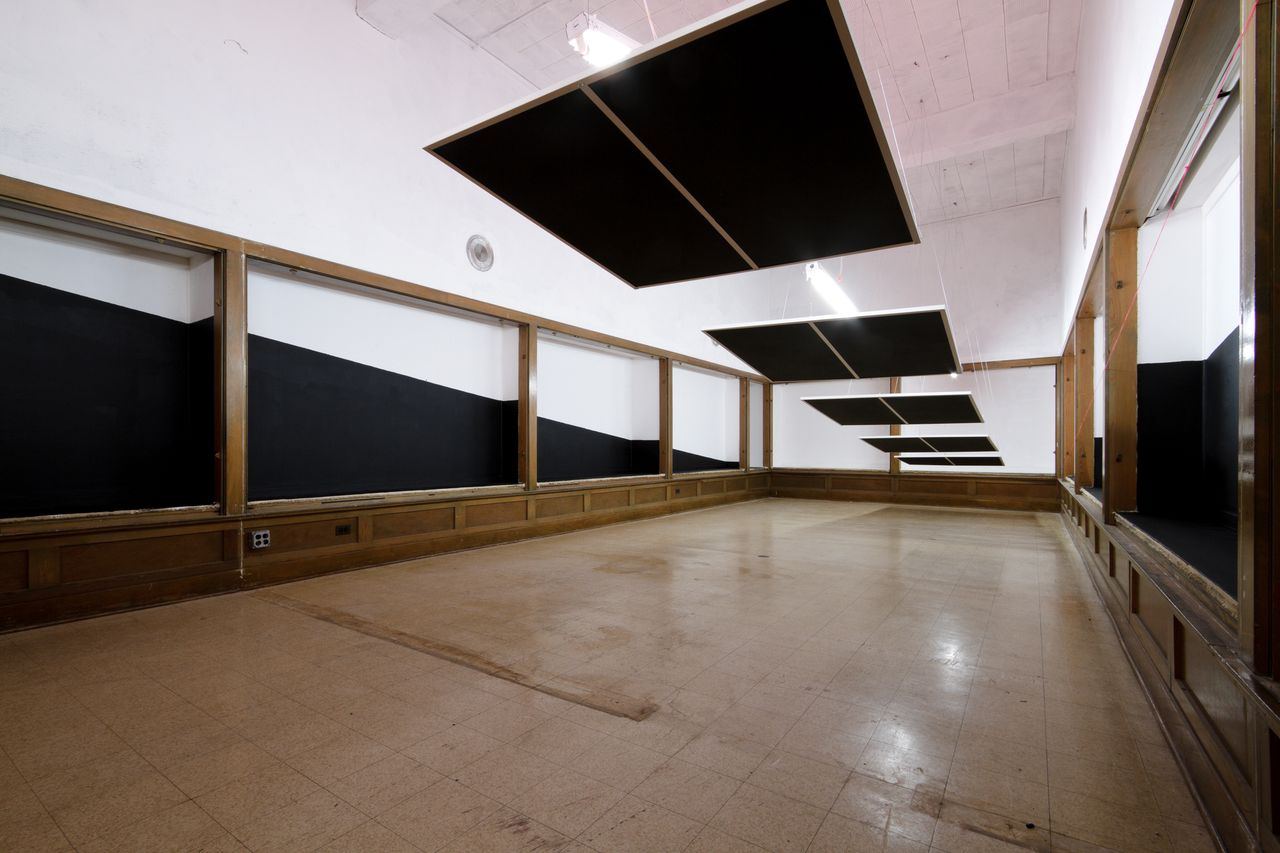 Untitled
SCHAUM/SHIEH
In this installation, panels are hung from the ceiling to extend and suggest a floating wedge of space. The panels strike a diagonal plane in the room, placed within the rhythm established by the recessed display cases of this former museum. An orthogonal field of point lights illuminate the colored panels, to produce a varying glow within the space. Working with minimal elements, the installation is an experiment in transforming the existing space subtly, simply, and atmospherically.
Rosalyne Shieh is an architect and partner at SCHAUM/SHIEH. She is also Assistant Professor of Architecture at the University of Michigan, where she was the 2009-2010 Taubman Fellow in Architecture. She received her Master of Architecture from Princeton University, a BA in Architecture from the University of California, Berkeley, and an MSc in Architectural History and Theory from the Bartlett School of Architecture in London. She has taught at NJIT and worked in the offices of Abalos & Herreros in Madrid, and ARO and Stan Allen Architect in New York City.
Troy Schaum is an architect and an Assistant Professor at Rice School of Architecture, where he was the 2008-2009 Wortham Fellow. He received his Master of Architecture from Princeton University and Bachelor of Architecture from Virginia Tech. In 2008 he co-founded SCHAUM/SHIEH Architects, a studio focused on testing new possibilities for form, representation and politics in the post-megalopolitan city. With his firm, Schaum has recently completed designs for a range of projects including, an art center in Dublin, pop-music center in Taiwan and an alternative urban plan for a shrinking Detroit.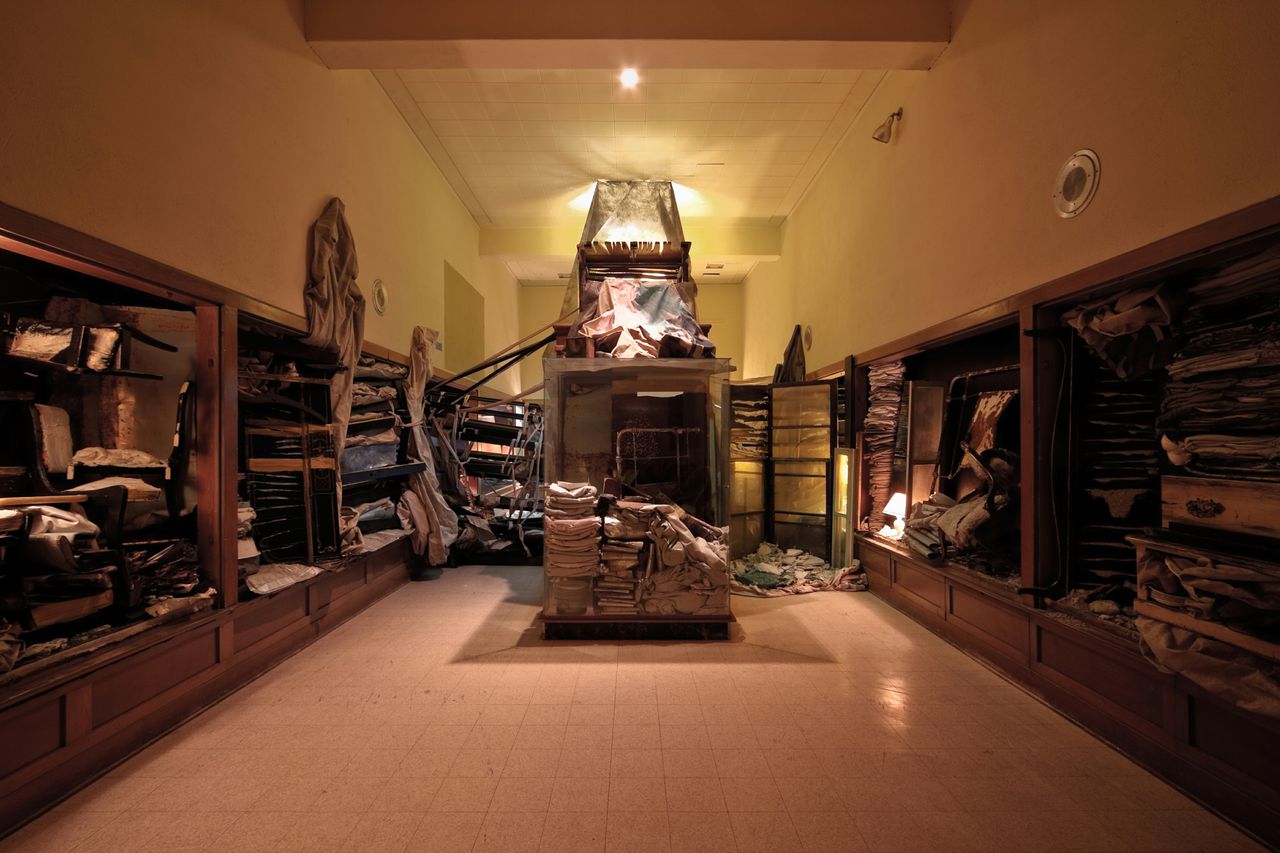 The Unfounded Future of The Untold
Juli Schenkelberg
Julie Schenkelberg uses vintage domestic items, combined with industrial discarded materials to explore and interpret personal history. Her materials twist, break and blend into one another, blurring their original intent; creating a new yet disjointed vision. The piece The Unfounded Future of the Untold explores how the history of these objects are mishandled into a new exquisite form, through faulty interpretation or missing information. The installation re-imagines the future of the 54 Jefferson exhibition space with the intended objects, much like interpreting a tattered manual with missing pages. This installation is made of all locally sourced materials.
Julie Schenkelberg was born in Cleveland in 1974. She lives and works in Brooklyn, NY. Schenkelberg received a BA in art history at the College of Wooster, and an MFA at the School of Visual Arts, NY, with additional studies at the Pont Aven School of Contemporary Art, France, and the Institute of European Studies, Vienna. She is represented at Asya Geisberg Gallery located in Chelsea in NYC and has been included in group exhibitions in New York, Miami, Chicago, and Cleveland. She has an upcoming exhibition in January at the Sculpture Center in Cleveland, Ohio. Her theatrical training as a scenic painter has influenced her work through material use, construction ideas and enveloping the viewer in a moment. Her work displays the psychological confinement and dysfunction of domestic interior spaces, inspired by the decay of the post-industrial deconstruction of the Midwest's former industrial centers.
Thanks to Lost and Found and PADNOS for their donation of materials for this project.
Flood and Stroke
S:L + CZS + ND
SiTE:LAB, Citizenshirt and Not Design have a history of collaborating on creative projects that blur the line between art, performance and commerce. For ArtPrize 2013, they have joined to transform an unfinished atrium adjoining 54 Jefferson into a print-on-demand t-shirt store that serves as a microcosm for The Not Yet, SiTE:LAB's ArtPrize exhibition. The artists, architects and designers participating in the show, as well as the juried award winners from SiTE:LAB's 2012 ArtPrize exhibition, were all challenged to design a t-shirt inspired by their piece, subject to certain pre-determined limitations. Their creations are displayed and available for purchase during ArtPrize in a retail space designed for the exhibition.
Pick up a t-shirt from your favorite artist! Or collect them all!
Special thanks to Bob Rogers for his design and fabrication assistance.
SiTE:LAB is a Grand Rapids-based art non-profit that creates temporary site-specific projects aimed at facilitating dynamic collaborations between the art, design, education, business and cultural communities.
Citizenshirt is a print and clothing company based in Grand Rapids, that emphasizes thoughtful design, regular collaboration and being a catalyst for good causes.
Not Design is a collaborative studio located in Grand Rapids interested in solving problems in unconventional ways.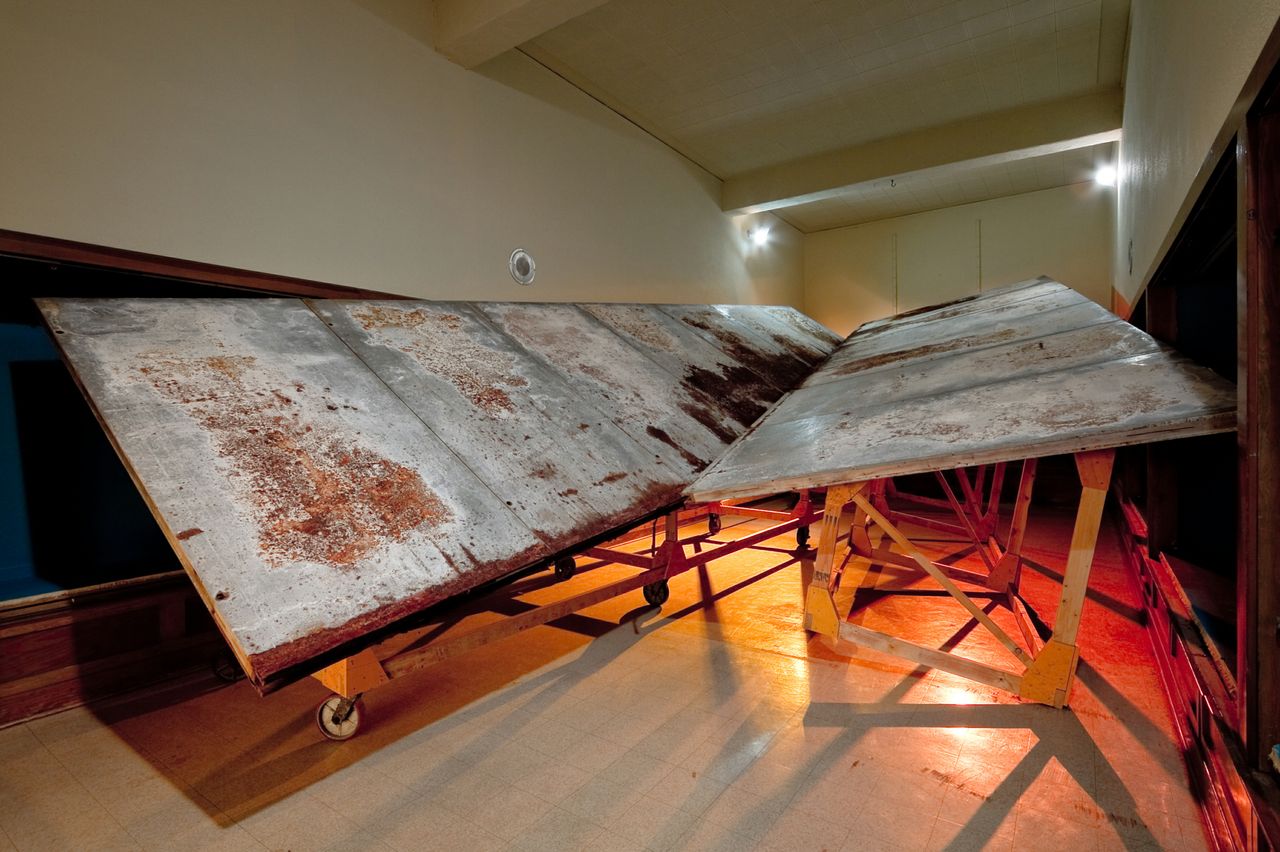 Subduction
Graem White
Located in the Pacific Islands room of the former Natural History Museum, Subduction seeks to illustrate on a basic level the forces that created the pacific islands: continental drift of tectonic plates.
Graem Whyte is a sculptor born and raised in metro Detroit, currently based in Hamtramck, MI. His career started in the field of architecture, later shifted to fine art, and now hybridizes both disciplines. In 2004, Whyte created the one night only weekly art showcase This Week In Art at Motor City Brewing Works which continues to the present. In 2007 Whyte and his wife, Faina Lerman, founded the experimental art venue Popps Packing in Hamtramck. Currently, Whyte is working on Squash House, the conversion of an abandoned house in Detroit into a squash court and community squash garden, has a solo exhibition at Re:View Contemporary (Detroit), and an upcoming show at the Cue Foundation (N.Y.) in March of 2014. His work utilizes a wide array of materials and often combines mythology, architecture, Chewbacca, the landscape, and patterns of mathematics and nature with a wry sense of humor.
54 JEFF Ideas Competition
INTRODUCTION
In 1940, after years of storing and exhibiting its collection in borrowed or repurposed spaces, the Grand Rapids Public Museum moved into 54 Jefferson, a 30,000 square foot facility, one of the last projects to be funded under the W.P.A. during the Great Depression. Over the next fifty years, 54 Jefferson, with a whale skeleton suspended in its great hall, and mammal dioramas and displays of rocks and minerals, taxidermied birds and other natural history specimens in the adjoining galleries, was visited by nearly every schoolchild in Grand Rapids. In 1994, faced with the deteriorating condition of the building and changing museum standards, the museum relocated to a new facility, leaving dioramas, showcases and exhibits behind. Since that time, 54 Jefferson has been maintained by the museum and the city of Grand Rapids, but has otherwise been largely closed to the public.
Beginning in 2010, the Grand Rapids Public Museum has collaborated with SiTE:LAB, a non-profit that conducts art exhibitions in vacant buildings, on a series of projects in 54 Jefferson. Allowing the public – and particularly those who still remember the space from grade school field trips – to again enter the space has fostered renewed interest in the future of this iconic building. SiTE:LAB is hoping to use that attention to initiate a community driven reexamination of the building's potential as a public space, and as a first step in that process, is conducting this ideas competition.
THE CHALLENGE
We challenge competitors to create compelling visions for the future of this former museum. While not every proposal may be feasible in light of the political, legal and financial obstacles facing the development of any new urban public space, each can raise the community's awareness of the unique potential of 54 Jefferson to serve Grand Rapids in new and innovative ways.
OBJECTIVES
This open one-stage competition seeks proposals for the repurposing of 54 Jefferson that define a vision for the building as a public space. Although proposals are not required to address these issues, they may wish to take into account (1) the extant showcases and dioramas left behind when the museum relocated, and (2) the building's proximity and potential access to an adjacent facility in which the museum stores the vast majority of its collection that is not on display at any point in time.
The People's Library at the Public Museum
Matthias Neumann
The PEOPLE'S LIBRARY is a temporary book exchange and open source library for free exchange and use by all and anyone, and a partial re-enactment of the library that occurred during the occupation of Zuccotti Park in New York City from September to November 2011.Come by; bring books; take books; and talk to people.
The Occupy Wall Street Library constituted an important self-forming institution within the Occupy movement, with more than 5000 books donated by individuals and circulated freely. A voluntee…r librarian staff organized accessibility, turning the collection into a living institution which was recognized in its short existence by being nominated for the Best Small Library in America Award.
The evolution and willful destruction of this library on November 16, 2011 poses a number of points of reference that remain relevant in an ongoing contestation of political and cultural dialog and mediation, such as the manifest and recognized physical location for the exchange of ideas outside established institutional space, a crowd sourced canon of relevant literature, the book as a recast icon of free speech, as became evident in how the destruction of the library was perceived by a wide audience reaching beyond OWS activists.
THE PEOPLE'S LIBRARY AT THE PUBLIC MUSEUM invites to recapture the spirit and energy, and to engage the general public in a free exchange of books and ideas. There will be free coffee to help the conversation.
Also featured: The Occupy Wall Street Poetry Anthology, compiled by Steven Boyer during the occupation of Zuccotti Park. There will be poetry hour at the PEOPLE'S LIBRARY daily from 6-7pm
Recite your own, share someone's, or explore the anthology.
Matthias Neumann was trained in architecture in Germany, Italy and Canada and relocated to New York City in 2000 after graduating from the University of Dresden, Germany. In 2004 he established his own practice, normaldesign, following his successful entry to the internationally open World Trade Center Memorial competition in New York, in which my proposition was chosen as one of eight finalist entries. His work has since been situated in the interstice between architecture, art and research, with recognized work in all three fields of engagement. Over the past years a number of works were concerned with the social processes which underlie creative projects in art and architecture. This interest is focused in particular on correlations between social and resource ecologies as they pertain to the built environment. This interest has been part of an ongoing artistic, academic and curatorial trajectory.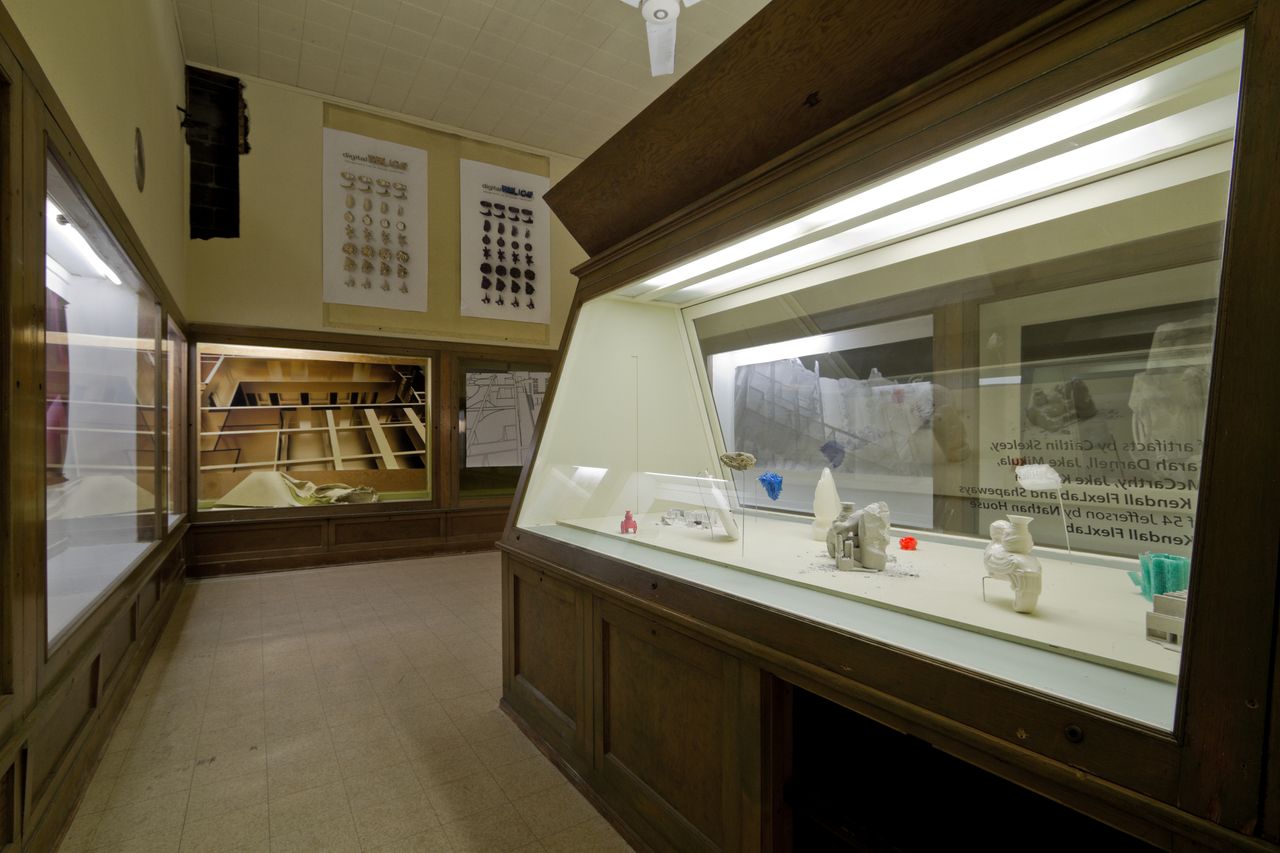 Digital Relics
KCAD Flex Lab
Digital Relics is a continuation of experiments started in the spring of 2013 by a group of different majors at Kendall College of Art and Design using some of the advanced technologies housed in our FlexLab. We used the site and artifacts at 54Jeff to learn about 3D scanning, 3D printing, and to start thinking about how things might be reinterpreted through these technologies for new functions and audiences. By May we had scanned roughly 30 objects and had presented some of them in their original, digitized and printed, and manipulated states. For ArtPrize we took some of the 3D information we'd captured, the 3D files of 54Jeff, and mashed them up for this sculptural sketch of the site and its contents. Participants in the course were Jake Falk, Sarah Darnell, Jake Mikula, Stephanie McCarthy, Jake Kapusta, and Jordan Verburg, with assistance from our alumnus Caitlin Skelcey.
Phil Renato earned his MFA in Metal Design at the University of Washington in Seattle, studying under John Marshall and Mary Lee Hu. He came to Grand Rapids in 2002 to chair the newly founded Allesee Metals/Jewelry Design program at Kendall College of Art and Design, named in honor of Detroit philanthropist Maggie Allesee. His students have gone on to design in major jewelry houses, to found their own studios, and to teach at the most prestigious institute in the fine jewelry field. He has lectured on his work and the use of CAD/CAM in art and design at dozens of universities and conferences across the country and as far away as England, Portugal, China, and Dubai. Most recently he was a presenter at the SIGGRAPH conference in Anaheim, where he presented the animated development of his chair sketch, Mutation. Since 2003 he has coordinated digital fabrication/3D scanning and printing technologies at Kendall; most recently through their interdisciplinary FlexLab project.