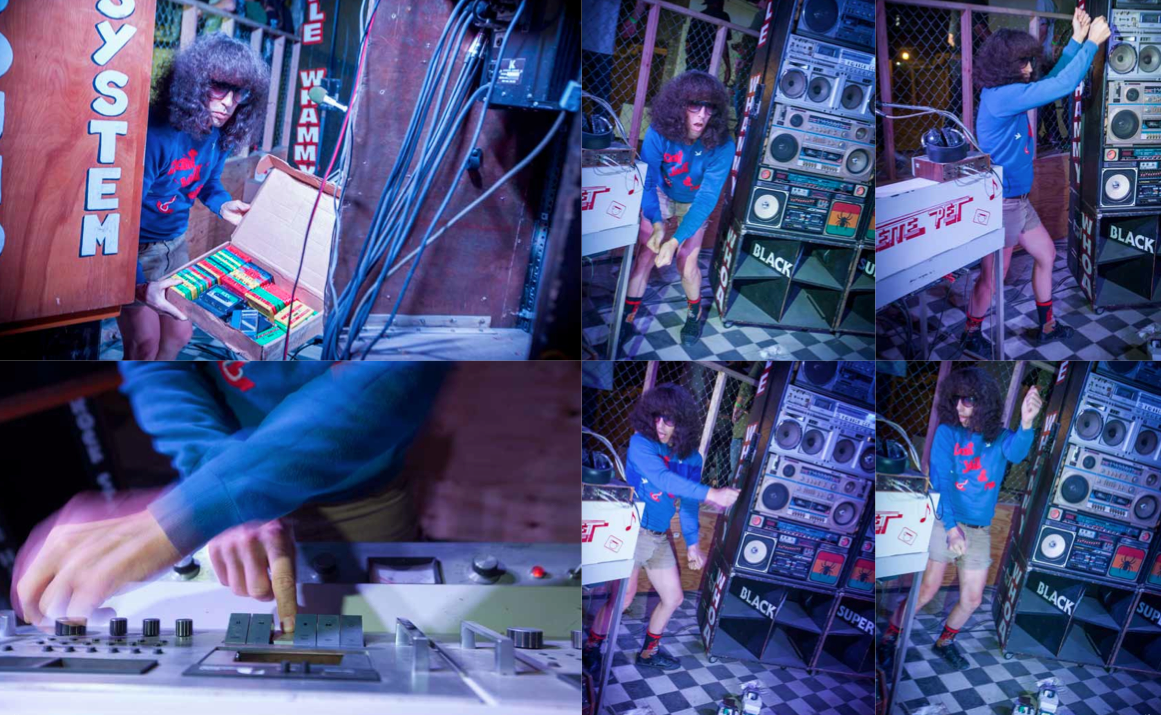 STRANGE ATTRACTORS (2014)
"I want to say congratulations to [SiTE:LAB] for a really fantastic show. Working with an unused building is a challenge. It's not just about putting art on the wall... Each floor felt like the curators had thought really specific[ally] about what this work is supposed to do and how it would impact an audience."
—Venue Juror, Tumelo Mosaka, Independent Curator, New Jersey
—————————————————————————————————————————
For ArtPrize 2014, SiTE:LAB, two-time winner of the outstanding venue juried award, took over The Morton, a vacant 90-year-old hotel in downtown Grand Rapids. A grand entry lobby, abandoned restaurants and commercial spaces, and a 1,000 square foot bank vault provided the context for an exhibition of site-specific installations.
The Morton has generously been made available to SiTE:LAB by Rockford Construction Company.

Artists
Katie Bell
Dance in the Annex (DITA)
Hubert Dobler
Christopher Fatten
Kate Gilmore
Flint Public Art Projects - Joe Reinsel
Scott Hocking
Lisa Muller-Trede
Present Company - Ryan Roa
Julie Schenkelberg
Amenta + PREMIER
TM Sisters
Graem Whyte
Symptomatic Constant
Julie Schenkelberg
Symptomatic Constant is my representation of a shipwreck in the Midwest. It is filled with items locally sourced from the Grand Rapids area, including retired sails from a Lake Michigan boat. The piece touches on the twisting turmoil of objects and domestic places in upheaval. The installation emerges from its firm grounding of earth and envisioned water, reaching toward the tranquil place in the sky beyond the storm. My mixed-media installations start with furniture, dishware, textiles, and marble, combined with concrete, resin, and construction materials, to transform notions of domesticity, and engage with the American Rust Belt's legacy of abandonment and decay. Using the home as a playground for formal and conceptual subversions, the work aggressively disrupts cohesion within the physical sphere. Familiar furnishings rekindle memories or premonitions of collapse, suggesting both the utter destruction of war, calamities, or urban decay, but also the uncanny juxtapositions of fragile substances such as cloth and china, with industrial materials such as rusty metal, heavy concrete, and tool-made marks such as drilled holes and chain-sawed indentations.
Julie Schenkelberg was born and grew up in Cleveland, OH. Schenkelberg received a BA in art history at the College of Wooster, OH, and an MFA at the School of Visual Arts, NY, with additional studies at SAIC at Oxbow, MI,
Pont Aven School of Contemporary Art, France, and the Institute of European Studies, Vienna. Solo exhibitions include The Sculpture Center, Cleveland, Asya Geisberg Gallery (NY), and upcoming at the Mattress Factory, Pittsburgh. She has been included in exhibitions in Storefront Ten Eyck (NY), A.I.R. Gallery (NY), Station Independent (NY), and the Phatory (NY). She was awarded a residency at the prestigious Bemis Center for Contemporary Arts and has been named one of "30 Artists to Watch" by NY Arts Magazine. Additional press includes Bloomberg, Hyperallergic, Art F City, Beautiful Decay and Ground Magazine. She lives and works in Brooklyn.
Thank you to Goodwill of Greater Grand Rapids, Padnos Recycling Center, and Lost and Found Treasures Old and New for supplying materials for Symptomatic Constant.
_________________________________________________________
"It was just breathtaking. What I really loved about Julie's work was interacting with the piece when you walk into the space where it is... It seems monumental."
Installation Juror, Ariel Saldivar, Independent Curator, Dallas, TX
respirator (breather)
Dance in the Annex (DITA)
The Morton becomes a living canvas in this original, site-specific work created by DITA Artistic Director Amy Wilson, called respirador (breather). Visitors experience the work as if looking through windows into the past of the legendary venue, watching as voyeurs: artists can be seen through three planes of space, as if they were in the very next room.
With a focus on artistry and technique, creativity and collaboration, Dance In The Annex's mission is to secure, promote and enhance modern dance in Grand Rapids by fostering an appreciation of dance through education and performance opportunities.
Thank you to Boston Light & Sound Inc., Perrin Brewing Co., Laura Sollom, Rockford Construction, and Wealthy Theatre.
__________________________________________________________
"The dancing...really was responding to the space. I think it really got to the essence of what performance and dance is, which is a body moving in space and then responding to that...a really powerful way to experience a building yet again...remembering its history while it prepares for becoming something totally different."
Time-Based Juror, Hrag Vartanian, Co-founder & Editor-in-Chief, Hyperallergic
Join Me in a Land That Know No End
TM Sisters
The Miami-based TM Sisters have created a multimedia installation in the ladies' Florentine Room or "Golden Room." Once a location where society ladies waited for their men, they could chat and socialize within the beauty of this room. Projections full of colors and geometric patterns fill the space, reflecting the unseen power and energy held here. The sisters' techno-tropical aesthetic is enhanced by the upside down palm tree that connects this world with the divine. The radiating circular optical illusion painted on the floor stages multiple live performances. Members of Grand Rapids' own Grand Raggedy roller derby team and two brothers in the NYC- based punk band, The Unstoppable Death Machines, are collaborators in this site-specific vortex that connects the past with the present.
Collaborating under the name TM Sisters, Monica and Tasha Lopez de Victoria are known for their kaleidoscopic, multi-media performances. Based in Miami and natives of Florida, the sisters combine audio, visuals, and action in extensive and often interplaying mediums— video, animated projections, performance, and large- scale installations, as well as two-dimensional works and social experiments. Informed by an upbringing heavy on discussions of spirituality, psychology, truth, and creativity, the siblings explore these topics in colorful and engaging displays, like their site-specific Whirl Crash Go! in 2008. Injected with Miami spirit, the performance explored the clash of cultures in the city, even including a theatrical fight and reconciliation. During the production, among video projections and abstract imagery, Monica— a synchronized swimmer—performed in a pool beneath mirrored panels, while Tasha—a former competitive speed skater—circled a track in free-style movements.
The Garden of Future Dreams
Graem Whyte
For ArtPrize this year Graem is excited to be with SiTE:LAB once again. Joining them at the historic Morton Hotel on Monroe Center. Graem has produced a multimedia installation featuring a sculptural mini venue for a performance by the Tzarinas of the Plane including a digital projection.
Graem Whyte is a sculptor born and raised in metro Detroit, currently based in Hamtramck, MI. His career started in the field of architecture, later shifted to fine art, and now hybridizes both disciplines. In 2004, Whyte created the one-night-only weekly art showcase This Week In Art at Motor City Brewing Works, which continues to the present. In 2007 Whyte and his wife, Faina Lerman, founded the experimental art venue Popps Packing in Hamtramck. Currently, Whyte is working on Squash House, (the conversion of an abandoned house in Detroit into a squash court and community squash garden) and Popps Emporium (the reinvention of a long-vacant storefront into a trading post and community hub). His work utilizes a wide array of materials and often combines mythology, architecture, Chewbacca, the landscape, and patterns of mathematics and nature with a wry sense of humor.
Roundabout 2
Hubert Dobler
Situated at the intersection of technology and art, my work revolves around chaos and utilizes "masculine tools," such as motorcycles, chainsaws and concrete drums, recording the traces these machines generate when allowed to exist outside their conventional use. By taking apart and rearranging objects out of context, I examine the emotional and visceral ties that the viewer may experience when machines are abandoned and operate in an unrestrained fashion. Roaring, bucking and crashing, my machines highlight the power and energy trapped inside everyday technology. I expose the raw power and free spirit inherent in engines and motors. ROUNDABOUT 2 is an exploration of kinetic Objects. Two motorcycles that are "tied" together circle each other. Like caged animals, the bikes are on display, performing their trick on repeat. Madly spinning, the throttles are wide open and the bikes release all of their stored energy, moving freely in a space creating burned rubber marks.
I started out studying engineering, went on to architecture, and then painting, and worked as a draftsperson in architectural offices for several years. Traveling to the Sahara Desert in Algeria on a motorbike in 1986 left a big impression behind. Some other "out-of-Europe" travels followed: three months in Asia in 1987, three months in Mexico in 1996. In 2001, I visited friends in NY where I have been living since. My education together with my long-standing fascination with motorbikes, tools, dildos, umbrellas, inner tubes... has directed me to create work that combines architectural and sculptural elements in installation pieces into which I incorporate performance as well as photography, painting and video.
The Secrets of Nature
Scott Hocking
The Secrets of Nature is a mixed media installation focused on creation / destruction mythologies, prehistoric times, and the operations of the sun. Using found objects from various abandoned "tourist traps" and roadside attractions, combined with mysterious artifacts and relics, the installation plays with ideas of archaeology, ceremony, symbology, and mysticism.
Scott Hocking lives and works in Detroit, MI. He creates site-specific sculptural installations and photography projects, often using found materials and abandoned locations. Inspired by anything from ancient mythologies to current events, his installations focus on transformation, ephemerality, chance, and discovering beauty through the cycles of nature. His artwork has been exhibited internationally, including the Detroit Institute of Arts, Cranbrook Art Museum, the Museum of Contemporary Art Detroit, the University of Michigan, the Smart Museum of Art, the School of the Art Institute Chicago, Contemporary Art Museum St. Louis, the Pennsylvania Academy of Fine Arts Museum, the Mattress Factory Art Museum, the Museum of Contemporary Art Chicago, the Kunst-Werke Institute, the Van Abbemuseum, and Kunsthalle Wien. He was recently awarded a Kresge Artist Fellowship, and is represented by Susanne Hilberry Gallery.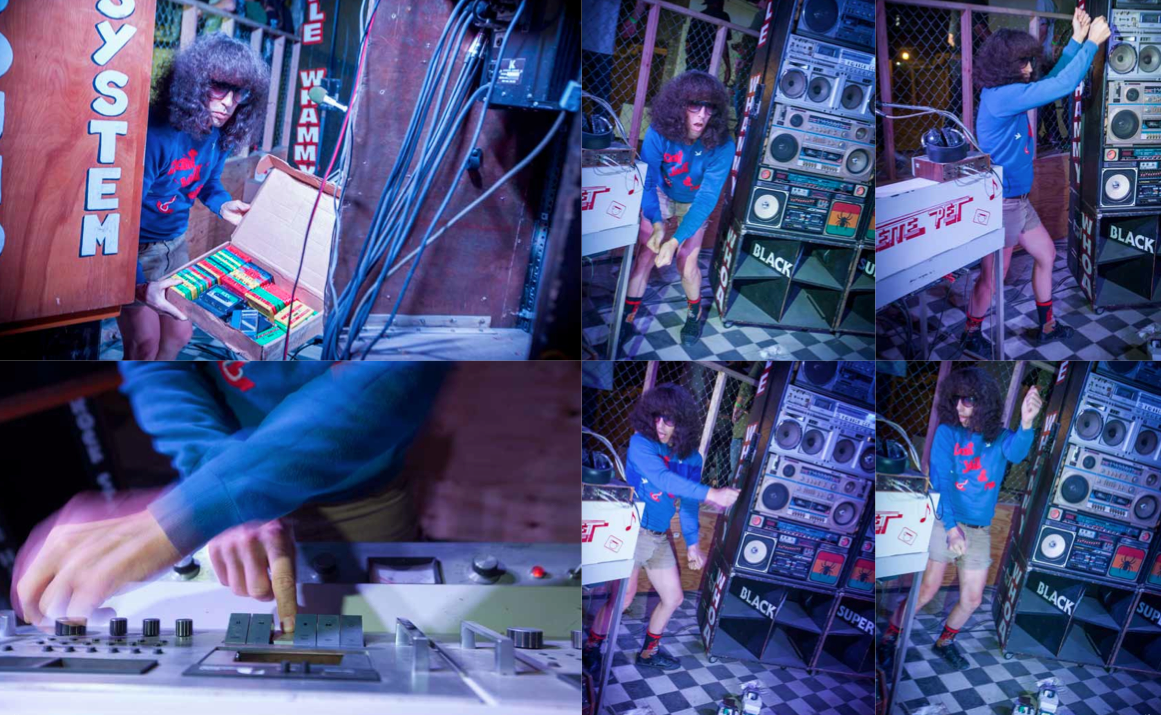 Chung King House of Metal
Christopher Fachini
Christopher Damone Fachini is obsessed with the origins of reggae. He composes and riffs on 1960's Jamaican rhythms. Situated at a mixer that Fachini uses to DJ cassettes of instrumental dub and rocksteady jams that he has written and recorded entirely himself, playing all the instruments (organ, bass, percussion, etc.) on all the tracks. The sound plays through various amps and speaker stacks, one made entirely from rewired, fully- functional boomboxes. This installation incorporates his Rockbox Sound System along with other visual elements he calls The Cassette Pets.
Detroit sound artist Christopher Fachini's performances are inspired by the rebellious energy of dub reggae music associated with Jamaican independence. They are set against his Rock Box Sound System. Fachini was described by Chris Handyside of the Detroit Metro Times as "one of Detroit's truly under-appreciated musical talents" with an "ear for the essence of Motown, Phil Spector, the Beach Boys and old soul pop music." His solo project called "The Mental Machine," premiered at Detroit MOCAD's grand opening in October 2006.
Love 'em, Leave 'em
Kate Gilmore
This performance was created specifically for an exhibition at MOCA Cleveland. Love 'em, Leave 'em will be exhibited at ArtPrize in its video form. "...It is impressive, yet the detritus left behind abounds with ambiguity." The performance involves Gilmore carrying hundreds of vases with paint up each side of a structure and dropping them through a hole in the top, resulting in a three- dimensional painting referencing Jackson Pollock's abstract expressionist action paintings. "The ceramic pots (which shatter as she drops them from above) reference femininity and, in this piece, the historical vision of the female body as a container and reproductive vessel." — Lyz Bly of the Collective Arts Network.
Kate Gilmore was born in Washington D.C. in 1975 and lives and works in New York, NY. Gilmore received her MFA from the School of Visual Arts, New York, NY and her Bachelors degree from Bates College, Lewiston, ME. Her work is in the collection of the Museum of Modern Art, New York, NY; Brooklyn Museum, Brooklyn, NY; Whitney Museum of American Art, New York, NY; Museum of Fine Arts, Boston, MA; San Francisco Museum of Modern Art, CA; Weatherspoon Art Museum, Greensboro, NC; Indianapolis Museum of Art, IN; and Museum of Contemporary Art, Chicago, IL.
Hold Still
Katie Bell
I am both a home-maker and a home-wrecker. I am in constant management of what comprises the home, while at the same time disassembling its contents. My studio is a test site where I can gather things and look at them. I can move them around, put them together, build, and ask questions. I think about the history of the material, what's behind it, what will be in front of it, and why this is our visual language. I think about the surface of walls, the layers behind walls, and how we compile the structures that hold us. Pulling up the rug, opening the closet, and turning up the blinds are a source of material. This building process is one of excavation through time and place. It is through material that allows the ideas to unravel.
Katie Bell was born in Rockford, Illinois. She received her BA from Knox College in 2008 and graduated in 2011 from the Rhode Island School of Design with an MFA in Painting. Bell has shown her work at a variety of venues, including Storefront Ten Eyck (Brooklyn, NY), Nudashank (Baltimore, MD), PLUG Projects (Kansas City, MO), Okay Mountain Gallery (Austin, TX), Mixed Greens (NYC), and the deCordova Sculpture Park and Museum (Lincoln, MA). In 2011, she was an artist in residence at the prestigious Marie Walsh Sharpe Art Foundation based in Brooklyn, NY. She currently has an installation on view at the Brooklyn Academy of Music and was recently shortlisted for Thames and Hudson's upcoming book '100 Painters of Tomorrow.' She has been named by Brooklyn-based critic Paddy Johnson as one of '8 Great Brooklyn Artists Under 30' and has been featured in BOMB magazine and New American Paintings. Bell lives and works in Brooklyn, NY.
Space Drawing #36
Present Company | Ryan Roa
As our contribution to the 2014 ArtPrize, Present Company has collaborated with the New York-based artist Ryan Roa to create a massive, site-specific installation inspired by his Space Drawings series of work. Roa is a young, multi-disciplinary artist who was inspired to begin making work after completing his military service in Iraq. His installations, sculptures, videos and drawings have been featured in gallery and museum exhibitions across the United States and abroad. For the installation at the Morton Hotel, Present Company collaborated with Roa to develop his largest work to date, while simultaneously corresponding with the grand spaces of this historic venue. Visitors will be allowed to pass through, around and under the patterned lines which seemingly grow from the ceiling, walls and floor, leading to a visceral sense of the majestic volume of the newly configured room.
Founded in 2011, Present Company is a Brooklyn- based exhibition, performance, and social space run by artists/curators Brian Balderston, Chad Stayrook and José Ruiz. Our curatorial program highlights individuals and collectives that flourish in an atmosphere of experimentation and critical dialogue in order to collaboratively produce projects that may not be otherwise presented.
Sliding Architecture
Flint Public Art Project | Joe Reinsel
Amplifier, Inc. /Flint Public Art Project's installation in collaboration with Joe Reinsel for ArtPrize 2014 incorporates indoor and outdoor projection mapping components to involve the public in light's capacity to instantly transform space both at night on the building's surface and indoors during the day. Using video cameras and projectors, Reinsel's work, Sliding Architecture, places participants into interactive engagement with the built environment and shifts the building from a static material to a transient and movable object.
Flint Public Art Project is produced by Amplifier, Inc., a nonprofit that creates programs to connect public and private groups with the global art and design field, bringing the most innovative work to under-served groups and smaller cities where it can have the greatest possible resonance.
Flint Public Art Project organizes public events, workshops and temporary installations to inspire residents to reimagine the city, reclaim vacant and underutilized buildings and lots, and use innovative tools to steer Flint's long-range planning.
Crossed Situation
Lisa Mueller-Trede
There are four parts to this work. Performances take place every day. The artist narrates stories verbally and via movement on the floor and on the immediate architectural surroundings throughout the former Morton Hotel. The idea is to extend the working space vertically. Secondly, the artist occasionally encounters with visitors. These movements and encounters are filmed in 3D and 2D. Thirdly, this footage is shown the next day. As time emerges, the film extends due to the assemblage of the various encounters. The fourth part involves numerous installations placed all over the exhibition space.
Thank you to Tim Schad and Nucraft Furniture Company for the generous support.
As a performance artist Lisa Mueller-Trede creates works, which to a great extent derive from interactions between the artist and the recipients. The body is the instrument connecting subjects and also objects via movement and voice, juxtaposing solid and fluid, static and dynamic results and processes. The architectural surroundings are adjusted to serve the encounters. Some of these interactive performances are captured either on film or photographs and are wound into objects and installations. Lisa has studied Communication Science and Acting in Vienna. In 2013 she performed at the Venice Biennale, at the Kunstverein Hamburg and the Bundeskunsthalle Bonn, 2014 at the Independent Art Fair New York in collaboration with John Bock.
SKaTE:LAB
SiTE:LAB + Premier
SKaTE:LAB was a collaboration between Paul Amenta, Eric Kuhn and Premier Skateboarding, along with technology partners Vizidef Display Technologies. The basement space of the historic Morton Hotel was transformed into a site-specific public skate park.