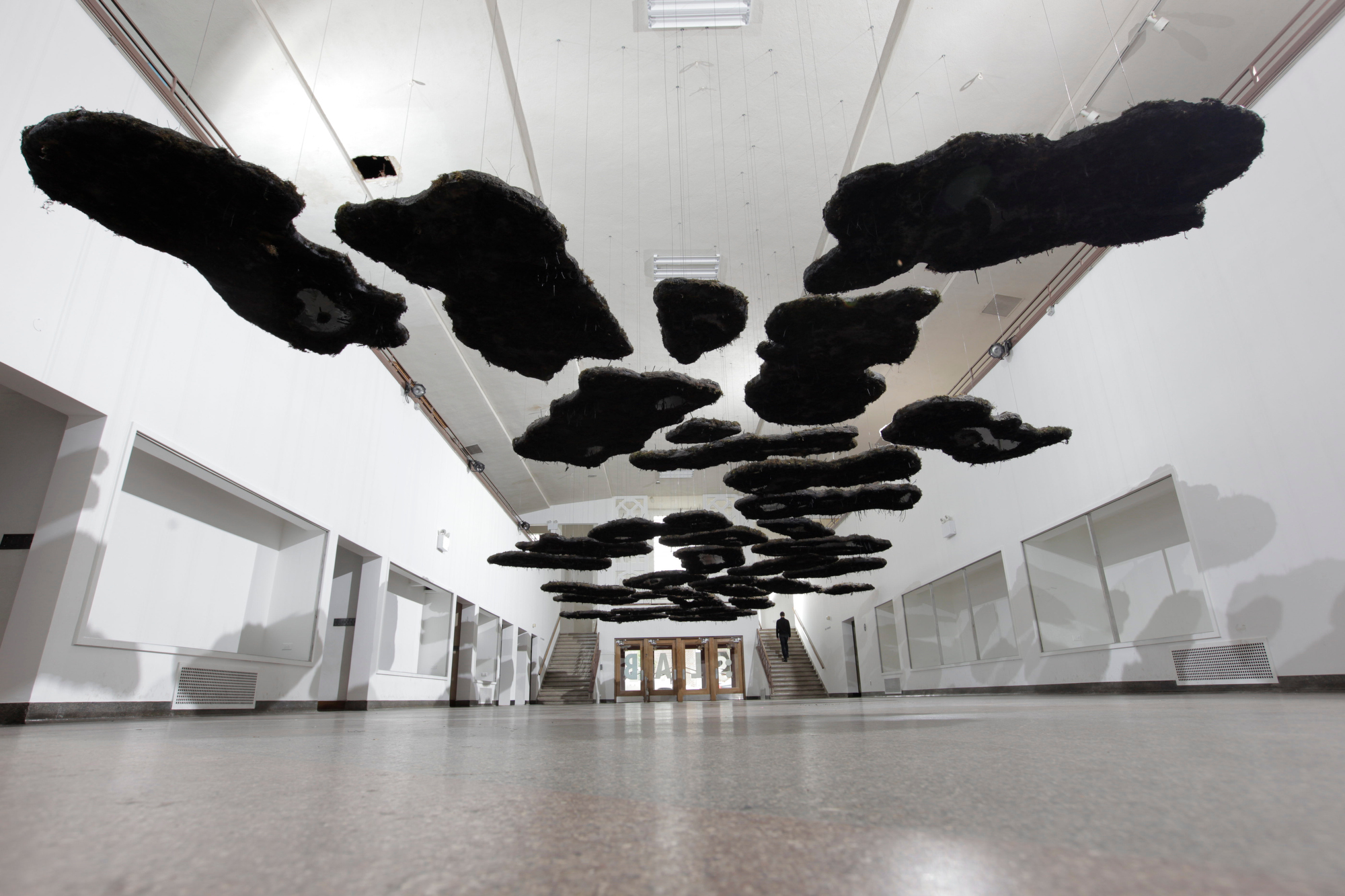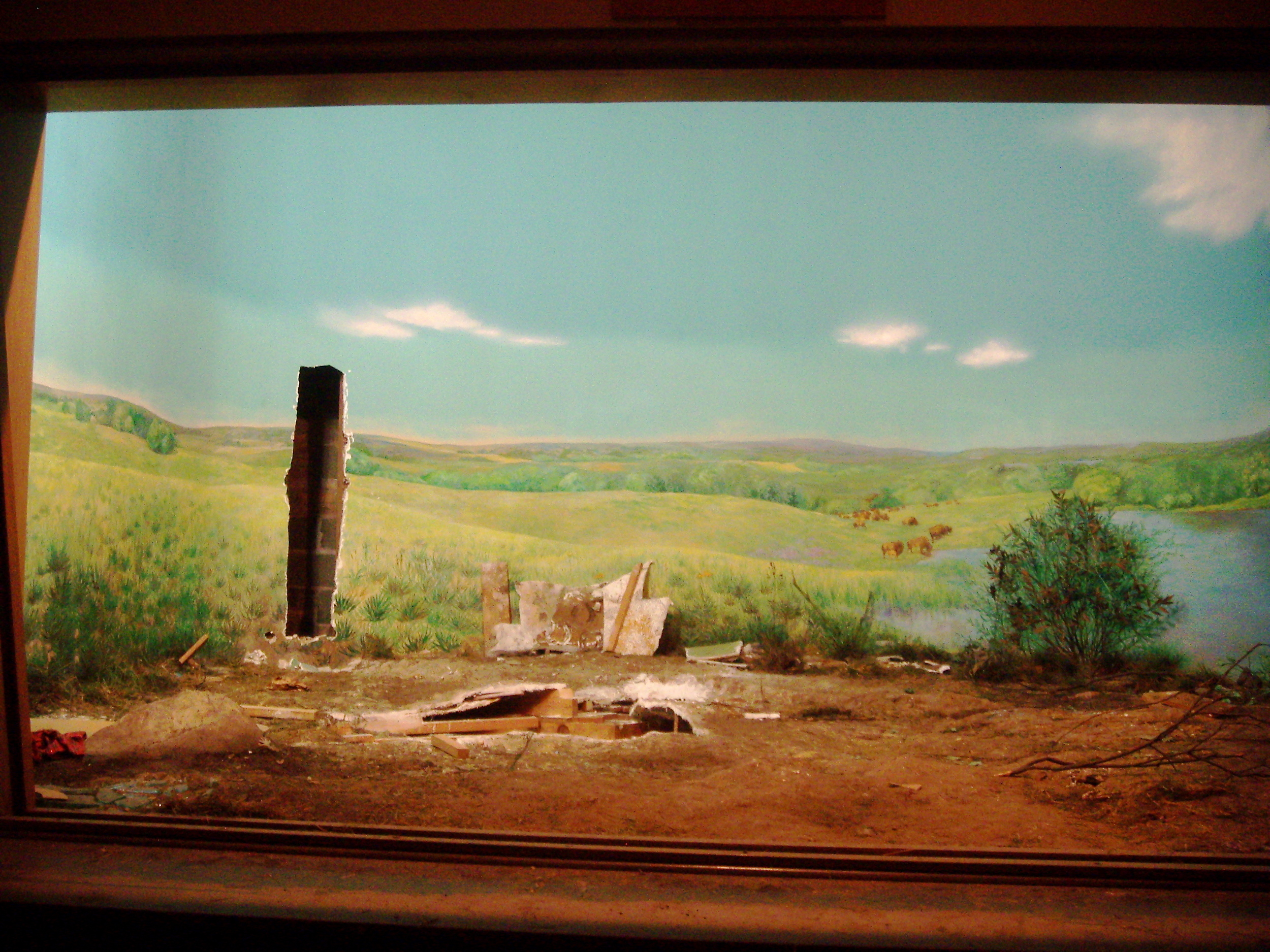 THE DREAM BEFORE (2012)
"SiTE:LAB in that old museum thing, that's as good as Munster, or Documenta, or any place in America. If those guys could keep this place open twice a year it would be one of the great spots."
—Jerry Saltz, Senior Art Critic, New York magazine
"The best venue was called SiTE:LAB, a takeover fo the former Grand Rapids Public Museum that was organized by Paul Amenta. SiTE:LAB wasn't just good for Grand Rapids, it was really good for anywhere."
—Tyler Green, writer and editor, Modern Art Notes
———————————————————————————————————————————————————
54 Jefferson, home to the Grand Rapids Public Museum from 1940 to 1994, was repurposed as an ArtPrize venue by SiTE:LAB, winner of last year's juried award for outstanding venue. Vacant since the museum moved to the Van Andel Museum Center, 54 Jefferson was left largely intact. Extant dioramas, showcases and exhibits provided a unique environment for an exhibition of largely site-specific and installation-based work organized by SiTE:LAB founder Paul Amenta.
54 Jefferson is being made available to SiTE:LAB through the generosity of the Grand Rapids Public Museum and the City of Grand Rapids.
Artists
Paul Amenta + Tom Wagner
Lily Cox-Richard
Design 99
Blane De St. Croix
Stephen Hendee
Scott Hocking
Alois Kronschaeger
Wes McGee + Catie Newell
Not Design
Lindsay Preston
Gary Schwartz
Filippo Tagliati
Complex Movements + Tiff Masse
Gudmundur Thoroddsen
Nicolas Touron
Shinji Turner-Yamomoto
Lisa Walcott
Amy Weiks

Displacement
Design 99
Gina Reichert and Mitch Cope founded Design 99 in 2007 to investigate new models of contemporary art and architectural practice. Their studio situates itself in the public realm. Whether this be retail environments, museum galleries or residential neighborhoods, Design 99 seeks out opportunities to experiment with art and design within the community. Since 2008, Cope and Reichert have been developing the Power House as a test site for ideas and methods, lo- and hi-tech building systems, and a point of conversation for an entire neighborhood. In 2010, Reichert & Cope founded Power House Productions (PHP), a nonprofit organization focused on neighborhood stabilization through art and culture. Design 99 has exhibited widely including the Van Abbemuseum (The Netherlands), Smart Museum (Chicago), Kunsthalle Wien (Austria), Detroit Institute of Arts, and the Museum of Contemporary Art Detroit.
Habitat
Alois Kronschlaeger
Utilizing the habitat dioramas in the Mammals Hall of the former Grand Rapids Public Museum, I will create a site-specific installation, juxtaposing the existing landscapes of 12 dioramas built in the mid-20th century with contemporary architectural intervention. By doing so, I hope to explore what happens in an environment when a foreign object intrudes these fabricated "virtual" spaces first created by Louis Daguerre in 1822.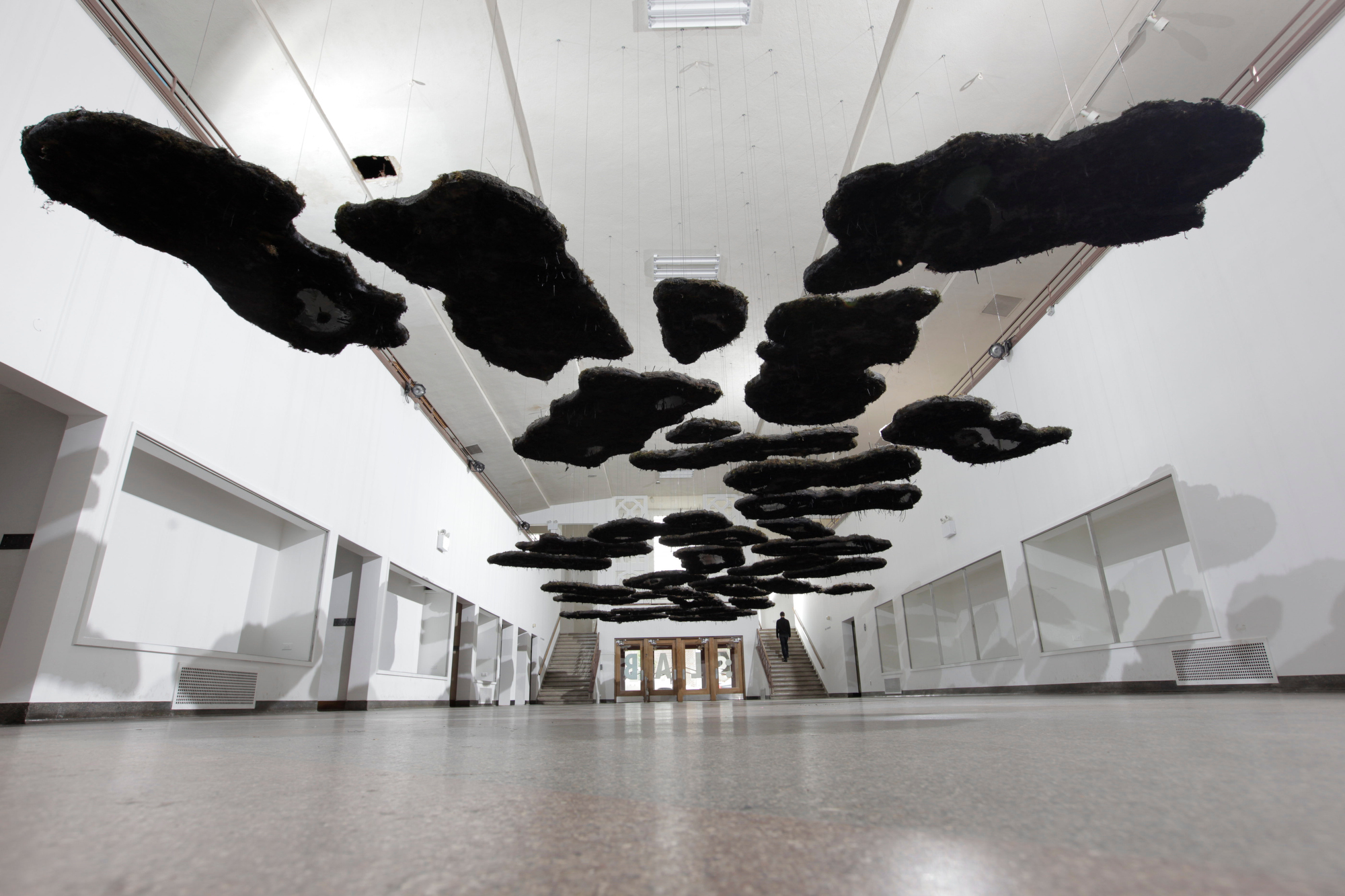 (Un)natural History
Blane De St. Croix
(Un)Natural History is a monumental miniature landscape that is installed in the abandoned Grand Hall of the Public Museum. The massive detailed work depicts a landscape functioning as a subliminal still in an ambiguous state of both destruction and regeneration. The work hovers in mid air and is viewable from numerous vantage points (above and below), both encompassing and disorienting the viewer.
Three Phases
Complex Movements
Complex Movements is a Detroit based artist collective composed of graphic designer/fine artist Wesley Taylor, music producer/filmmaker Waajeed, and hip-hop lyricist/activist Invincible. Their multimedia performance installations, hand crafted songs, and trans-genre experiments explore the relationship between complex science and social change movements. Complex Movements is a recipient of 2012 MAP Fund grant and Michigan ArtServe's CSA grant. They have presented their work at The Detroit Science Center for Kresge's Art X Detroit festival, Re:View Gallery, Network of Ensemble Theater's Microfest, and Cranbrook Art Museum. They are joined at Artprize by jeweler Tiff Massey, as well as creative technologists AJ Manoulian and Carlos (L05) Garcia.
Tiff Massey is an Detroit based artist. Her love affair with jewelry/metals originated at an early age. She began her formal education in the field of biology but could not deny her interest in metalsmithing. Her interests in the arts overcame her science background as she immersed herself in the field, being classically trained in the fine arts. Tiff Massey received her MFA in metalsmithing from Cranbrook Academy of Art in 2011 and has continued to create and exhibit in many group shows throughout the United States and Europe. Her work is an observation of class and race in contemporary times through the lens the African diaspora and the histories of Detroit.
The Ice Next Time
Stephen Hendee
The Ice Next Time: Textiles and Artifacts of Dark Age North America (2026-2280ce) is an exhibition at the Grand Rapids Public Museum in the year 2429 and looks back at the dramatic historic era when electricity did not flow for over a hundred years. As most information had become digital, almost all historical models of progress and information were erased in an instant. When the layers of technology recombinantly built upon one another quickly crumbled, creative re-acquisition of ancient processes for producing power and useful materials was essential. During this time, word and contract was verbally passed on, written by hand, or typed in static ink. The greatest challenge to those who braved the dark shroud was recollection, and those who could recite became significant figures in our narrative of human survival. The Ice Next Time presents revered objects and handcrafts from this era, charting the disintegration of civil order and it's continued reestablishment.
Viaggio A Roma
Filippo Tagliati
Filippo Tagliati was born in Bologna, Italy. After earning his BA in Humanities from Universita' di Bologna with a concentration in Semiotics and Art History, in 2004 he moved to the USA and in 2007 he received his MFA in Photography from Arizona State University. Currently Tagliati lives and works in Grand Rapids, Michigan where he is an Assistant Professor of Photography at the Grand Rapids Community College. His photographic and video works have been exhibited and screened nationally and internationally, including the Toronto Urban Film Festival, Canada; International Film and Video Festival Aarau, Switzerland; CologneOFF VI, Germany; The Scientist Festival Videoarte, Ferrara, Italy; and The Digital Era, Climate/Gallery, Long Island, NY. Tagliati's work is included in the Public Art Collection of the City of Tempe, and both the Northlight Gallery and The Herberger Institute for Design and the Arts, at Arizona State University.
Father's Fathers
Gudmundur Thoroddsen
Gudmundur Thoroddsen was born in 1980 in Reykjavik, Iceland. He received his MFA Degree at the School of Visual Arts in New York in 2011 and his BFA Degree from the Iceland Academy of the Arts in 2003. In between earning degrees he has lived, studied and worked as an artist in various places on both sides of the Atlantic Ocean. Life and death; history and ancestry; shit and gold are reoccurring themes in Gudmundur's work, which are derived from his own confusing position within a failing patriarchy.
The Reptile Room
Scott Hocking
Scott Hocking was born in Redford Township, Michigan in 1975, and has lived and worked in Detroit proper since 1996. He creates site-specific sculptural and photographic installation projects, often using found materials. He is left-handed and wears contact lenses. He has a speech impediment. He is a Pisces, born on the day of creative isolation in the week of the loner and the year of the cat. He can read palms, has 3 tattoos, has been arrested 6 times, and is the 6 of spades. His artwork has been exhibited nationally at the Detroit Institute of Arts, Cranbrook Art Museum, the University of Michigan, the Smart Museum of Art, and Contemporary Art Museum St. Louis, and internationally at the Kunst-Werke Institute, the Van Abbemuseum, and at the Kunsthalle Wien. He recently completed works at Sculpture Space in New York, Bundanon Trust of Australia, the PAFA Museum in Philadelphia, and was awarded a Kresge Artist Fellowship. He is represented by the Susanne Hilberry Gallery.
Specimen
Wes McGee + Catie Newell
Suspended in air, curious in its natural form, and artificial in its existence, Specimen evokes a peculiar creature of irregular origins. Made of glass, the work is constructed through a process of free form catenary slumping. Each piece of the work is subjected to its own temperature and duration setting providing variation in curvature and detail throughout the entire project. Hovering at eye level and above, the visitor can walk around and under the work.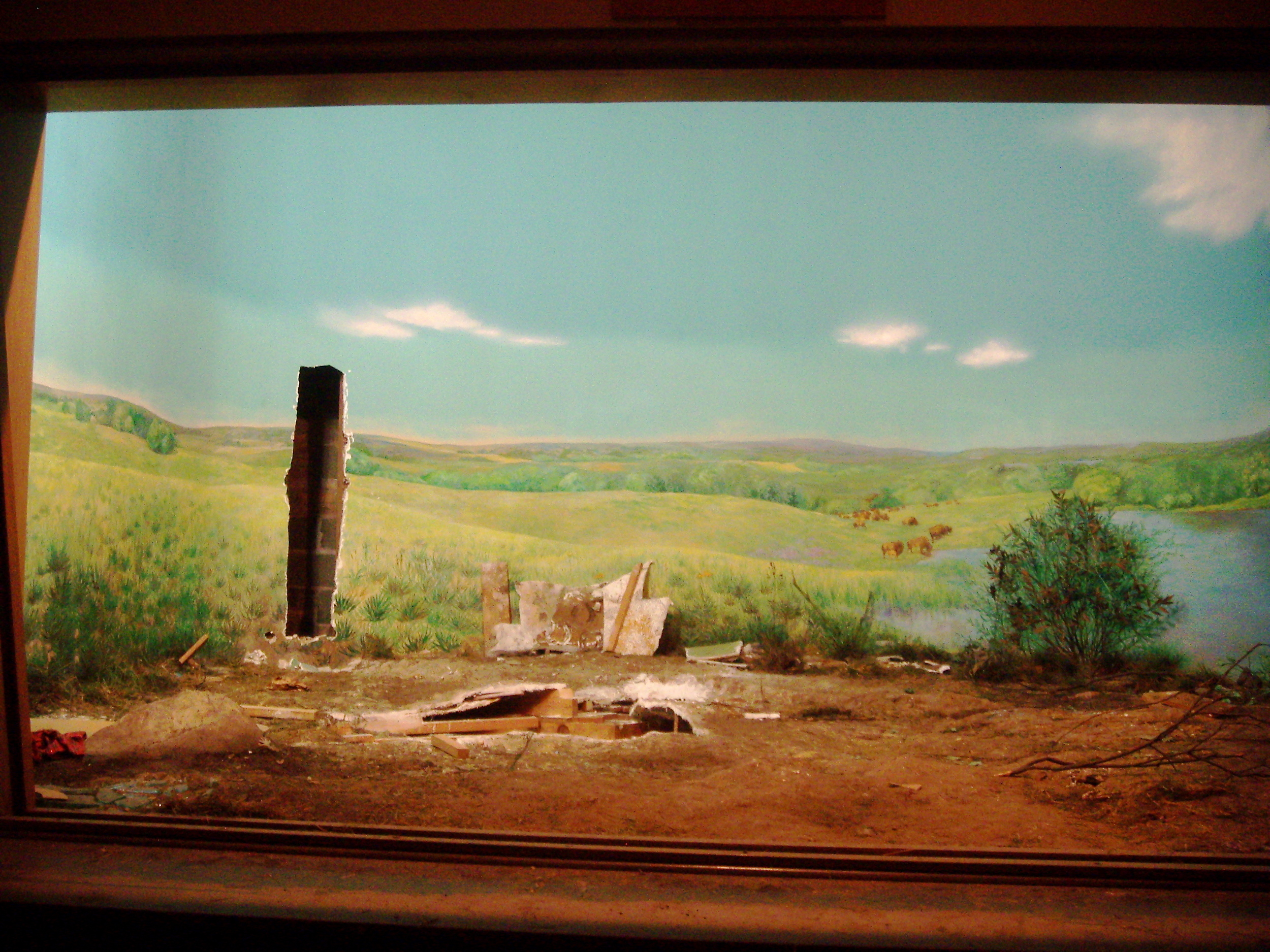 Public Museum
Gary Schwartz
Animated stop-motion/time-lapse Camera Obscura installation inside the old abandoned Grand Rapids Public Museum. The museum with it's intact & decaying exhibits have been closed to the Public for 16 years. "Magic inspires my art; the something that comes from nothing." My process-oriented kinetic, cinematic animation events are inspired by temporal site specific 'in situ' locations. This art/animation practice is expressed through a handmade ethos of the single frame. Time, puppets, motion, found objects & light are the elements that play out their choreographed anarchic alchemical processes of transmuted detritus. Working with digital media and the magic of early 19th century technology ( Camera Obscuras) raises conflicting questions, expressing 21st century conundrums. I adapt rejected and fleeting materials of the "real" world to express idiosyncratic moments in the imagined spaces. "Nova ex Veteris" "The new must be born out of the old."
Sunrise at Isle Royale
Paul Amenta + Thomas Wagner
Sunrise at Isle Royale was a collaboration between Paul Amenta and photographer Tom Wagner installed in the decommissioned Grand Rapids Public Museum.
Strike
Lily Cox-Richard
Frontier fences, lightning rods, obelisks, and fairy circles. As they drift through time and away from their vernacular, these familiar forms become vague. I'm trying to understand how these symbols and systems can still be potent, and where this power is located, even as their original meanings and functions are obscured.
Breathing Room
Lisa Walcott
Born January 5, 1983 in Grand Rapids, MI, Lisa Walcott is a Midwest based installation artist and kinetic sculptor whose work explores relationships to space and cycles of deterioration and growth, through various subtle gestural objects. Walcott received her MFA in Sculpture from Cranbrook Academy of Art in 2010 and has continued to create and exhibit nationally. Her work explores mundane, extracted moments from familiar spaces ultimately giving lyricism to the unseen and visual articulation to the unsaid.
Girafe
Nicolas Touron
Born in France, I moved to Amsterdam and studied art/audiovisuals and graduated from the Gerrit Rietveld Academy in 2001. In the Netherlands I exhibited my work at various public spaces, including the Rotterdam subway and the Museum of Ethnology in Amsterdam). I was awarded a Fulbright Fellowship to pursue an MFA at the School of Visual Arts. I graduated in 2003. I worked at SVA, first as a technician and now as a teacher. I produce my work at home and at SVA's facilities. I have exhibited my work in solo and group shows, notably at Virgil de Voldère Gallery, Josee Bienvenu Gallery, Priska C. Juschka Gallery NYC and at Galerie Bugdahn und Kaimer, Dusseldorf Germany. Articles about my work were published in the NY Times, Flash Art and Time Magazine. Telling stories is my main objective. Both my sculptural and flat work are visual fables, but contrary to the classic fables, mine contain no moral or moral judgments. They simply exist on landscapes of absurdity, seemingly purposeless.
Diaphanous
Lindsay Preston
There is knowledge in the haptic; the body and the breath. The objects and materials that we physically interact with teach us something about the world and about ourselves. My work embraces the visceral, and melds it with the compositional; union of body and object, prop and sculpture, photograph and subject. My sculptural practice is supported by photography, collage and drawing. I am interested in how these forms communicate, meld, and often layer to create meaning. Pivoting between the recognizable to the surreal, my work allows itself grace to fall further into the rabbit hole while taking cues from the quotidian. There is an acceptance of transparent facade, like identical suburban homes that each manifest uniqueness. A man in a two car garage, tacking up pegboard and organizing his tools with a sharpie outline around the shape of each, is assigning order. He takes control of his private space as a means to beget individuality.
Acceleration
Not Design
Think Not Design. Not Design is a collaborative studio interested in solving problems in unconventional ways. The end results are not only that we design artifacts (things) but that we identify needs and fill them. We aim to have an impact by making education, information and experiences more relevant. We each have a responsibility; to each other, to ourselves. As artists & designers we have a responsibility to use our gifts to effect change.
Sidereal Silence
Shinji Turner-Yamamoto
Last year in September in Grand Rapids I went to an underground gypsum mine to collect materials for my ArtPrize installation. I was with a group—the SiTE:LAB team, the curator and his students, and videographers. Yet despite their presence I still experienced instances of total subterranean silence and darkness and an accompanying fear and awe toward the unknown. I certainly could not comprehend my proximity to deep time embodied in this gypsum, formed 350 million years ago, or the inherent entity of the void. The minerals, especially their crystals carry a sidereal darkness and silence. My installation will be an homage to this silent and somehow sentient being, this mineral, this essential element without which our bodies can not exist.